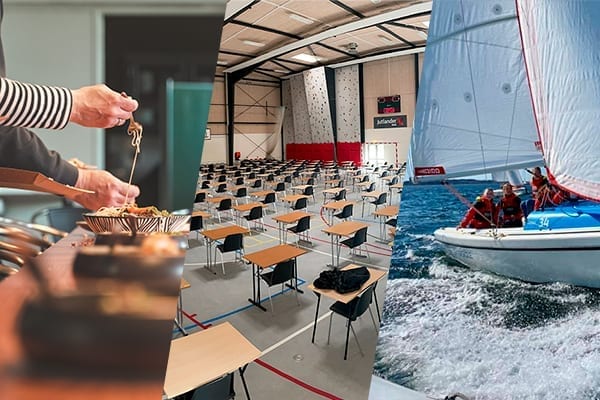 29 Apr

Asian cooking, exams & limfjord sailing

Dear reader,

It's exam time for students taking IGCSE subjects, and next week it's Danish and maths. But in between and after study time and preparations, we have fun in the contact groups, family groups and in the four houses.

There are eight weeks left in the school year and we have a lot to do before we go on summer break. Students can look forward to Ranum Derby, Wedding Weekend, last day of school, Harry Potter day, water sports weekend, Ranum Festival, profile trips, outroweek and "something unexpected" as Carl describes it to the students.

That was a look forward in time, and now it's time to look back at the week that was. Welcome and enjoy your reading!
Asian Cooking: Asian cuisine samples of the year
On the lower education corridor spreads the scent of Asian spices. Going further down the corridor, you can hear Ning's voice. She is helping the students finish the dishes that will be judged shortly.
The annual tests are in focus, and while the judges taste, the students watch the reactions with excitement.
The winners were group 3, as you can see in the picture below (third picture). Congratulations and thank you for the great food!
Exam: Soon it will start
The question of how to print has been asked many times this week. And now, thankfully, it's being sorted out. For the big tests like maths and Danish, more than 300 pupils are being examined at once, so there will be plenty for the invigilators to do, picking up printouts and following pupils to the toilets.
Crack and puke for all the students.
Sailing: profile on the Limfjord
The first days on the water are always special, and they were earlier this week when the sailors were blessed with a beautiful sail. Reports from the sailing instructors are that the new team has done very well, so it is sure to be a great sailing season.
A few videos were shared from the first trip, and you can watch one of them below. You can also follow them on Facebook by clicking on the logo.
Outdoor Skills: 10+ subjects develop skills
On Monday, Rune brought a group of Outdoor Skills students to Rønbjerg to learn canoe and kayak manoeuvres. Outdoor Skills is a 10+ subject, which is one of the exciting extra subjects you can choose in 10th grade at Ranum.
Memory jerseys: perhaps the most anticipated jersey of the year
The mementos were handed out at contact group time, and getting them is a bit of a milestone in afterschool life. Both because it means we're now well into the year, and of course because it's one of those things you keep, and which is fun to pull out years from now.
All the best,
Ranum Efterskole College