Camps and summer school
Have an unforgettable summer at Ranum Efterskole College 
Ranum Efterskole College
Ranum Efterskole College is a efterskole, located near Rønbjerg, in North Jutland. Ranum has over 500 students, and offers sailing, diving, martial arts, fashion, and much, much more. 
Get a taste of efterskolelife, with a summer camp, right here at Ranum Efterskole College. 
Choose how you want your summer to look!
Welcome to your summer, here at Ranum Efterskole College in Denmark, Europe. You can choose from 4 great offers here at the school, and read about each one below. 
All camps run from 2 July to 29 July, and vary from 4 days to 4 weeks. A summer at Ranum guarantees friends from all over the world, a high professional level, and experiences for life.
After-school is an alternative form of schooling where students both receive education and live at the school. In addition to their academic studies, students also receive practical training, which gives them a wide range of skills. 
Read more about all your options right here!
International Summer School
02 July - 29 July: 1, 2, 3 or 4 weeks
Prices from: 2850 kr. to 13.400 kr.
Meet new friends from all over the world and improve your English. Choose from exciting themed courses, such as English as a Second Language, Science, Social Science, Political Science, Sustainability Goals and Business Studies in the morning.
In the afternoon, you can choose from a range of profile courses including sailing, gastronomy, music, dance, design, football, kayaking, fitness bootcamp and teambuilding. Every week there is a day with excursion, and in the 3 and 4 weeks course there is a study trip to either Copenhagen and Odense, Gothenburg or Hamburg. Sommerskolen ends with a big gala party.
Read more
16 July - 29 July: 2 weeks (week 29-30)
Price: 7.700 kr.
If you want to improve your English, you can go to a 2-week English language camp. There will be intensive English classes in the mornings, where the emphasis will be on the oral and on using the language in a natural way. In the afternoon, you can choose from a range of profile courses including sailing, gastronomy, music, dance, design, football, kayaking, fitness bootcamp and team building, etc. You'll be living with your new friends from around the world, with English being the main language so you'll have plenty of opportunity to practice it, you are taught. The teaching is leveled so that everyone can join in. At English language camp you will receive a course certificate at the closing party.
Read more
July 2 - July 8: 1 week (week 27) or 9 July - 15 July: 1 week (week 28)
Price: 5.450 kr. per week (incl. luxury clothing package)
Cheerleading is much more than dance and weather mills. At our popular cheerleading camp we have got both and international trainers to teach. We learn to throw with each other, pushing our boundaries and teaching cheerleaders to from all over Denmark. After the training we have fun and a
afternoon we go to the beach and to Fårup Sommerland. We have both an advanced and a beginners class. We are open for anyone aged 11 through 17. We have in the summer of 2023 chosen to divide the practice and beginners in the 2 weeks, so that you can learn
as much as possible. Week 27 is for beginners. That means everyone who has never tried it before, or what we in the cheerleading world call level 1-3.
Week 28 is for all advanced, and that means level 4-5. You must have attended level 4 in the year of enrolment
Read more
Week 31: 29 July - 2 August
Price: Beginner/Intermediate: 4.900 kr., Advanced: 5.100 kr.
The first instalment of DKK 3,500 is paid through the webshop. Remaining amount to be paid on arrival
Go to the absolute coolest Dance Summer Camp in Denmark, with the
greatest international and national directors.
Divided into levels: easy/intermediate and advanced.
At the 2022 camp, instructors included. Ian Eastwood L.A. (see video with him on the left), Reet Roy Toronto, Rowan Chambers London, Michel Patric Kbh./L.A. The directors for 2023 will be announced soon. See you at an amazing dance camp in the summer of 2023 at Ranum Efterskole College with fantastic workshops,
fun and events in the evening. There will also be time for
bathing and a fantastic closing party.
Read more
Week 26: 26 - 29 June 2023
Price: 2100 kr. including clothing and transport to and from Aalborg st. 
Welcome to Zo's Basketball Camp, known for its diversity,
the ability to accommodate a wide range of participants of mixed ability, and to
the participants always have fun. A good experience is guaranteed for all participants,
and experiences for life. Zo's Camp is bursting with positive energy and joy for
basketball. The entire coaching team is strong, with specially selected assistant coaches with
lots of experience.
The basketball camp is made in a collaboration between former professional basketball
plays Alonzo Brooks and Ranum Efterskole College. A video with Alonzo can be seen on the right.
Read more
Spend your summer at
Ranum
Summer Camps
An experience for life
Go to Ranum Summer Camp and have the best summer of your life. You will have a great fun and eventful summer holiday where you will be challenged personally and professionally.
You can choose International Summer School for 1 to 4 weeks or one of our exciting camps for 1 to 2 weeks.
Do you have questions about summer camp?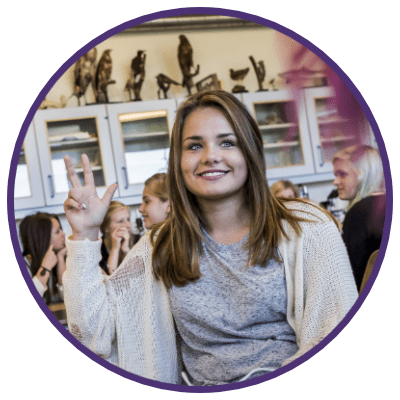 Registration and payment
Registration and payment is due 4 weeks prior to the Summer School begin via our webshop. Click "APPLY" to navigate to the webshop. Here, you will find the different programmes. Choose your programme that are relevant to you.
When you're done adding the offers you want, go to the shopping cart. Here you will be asked to fill in the registration form itself with your personal details.

You will receive a receipt of registration and payment, and you are now admitted to the Summer Camp.

If you have a question about the summer school, you can contact Henriette directly at:
Tel: +45 96 66 44 02
Mail: hsj@ranumefterskole.dk