With 400+ students, Ranum Efterskole College is one of Denmark's largest general efterskoles. Students live on the campus, which is a small town in it own right. The school campus covers four main houses: Kærhuset, Seminariehuset, Lien and Ranumhus. In this way, we have many small communities which together form one large community.
Book your guided tour
Houses and boarding facilities

Ranumhus is designed with 2-5 person rooms. The students live in small clusters with TVs and living areas, where they can spend time together after school. One of the coolest things about Ranumhus is the new gym and courtyard with a football field, volleyball, basketball, street football and bonfire.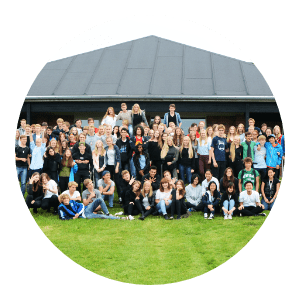 Kærhuset is designed with 2-3 person rooms and 4-6 person apartments. There are common rooms, a gym and a dining room. At the Imagination loft there is a dance hall and stage for smaller concerts. In the loft, the students hang out and arrange joint sororities on weekends.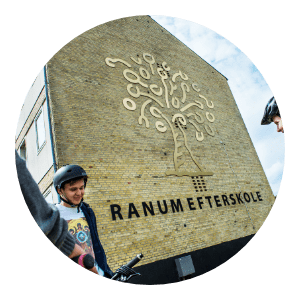 Seminariehuset is designed with 3-6 person rooms. In the schoolyard is the Tree of Life, where we have built a large stage for outdoor parties and concerts. Inside you will find the 'Svederen' with a cozy common room, boulder wall, parkour course, gym, music studios, media, eSport and cinema.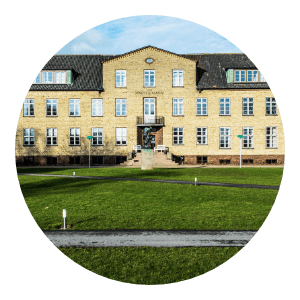 Lien is the smallest house on campus, and has room for aproximately 30 students in 3-5 person rooms. There are cosy common rooms, a private kitchen and a lovely garden with plenty of room for outdoor activities. Lien is part of Seminariehuset's large community but also a cosy getaway.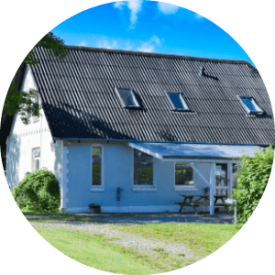 Large and small communities
All students are placed in contact groups of 9-10 students in each. There are 40 contact groups in total spread out on the 4 houses. Each contact group will have their own contact teacher and eat, cook and clean together.
Each contact group will have a frindship-group in one of the other houses. This is one of the ways to make friends all over the school.
Meeting other young people in the world shapes our national and personal identity. That is why we invite international students and teachers to the school, just as we ourselves travel three times into the world. At Ranum, students and teachers form new profile and culture subjects three times a year. The process of choosinga profile or culture subject is part of the school's pedagogical strategy. It makes enormous sense to form a community around the activities you are passionate about. The travels may included additional self-payment, and everyone must prioritize along the way. However, there are always travels without additional self-payment and there is the possibility to apply for individual financial support for both accommodation and travel expenses.
Read more
Our campus and facilities
Campus area: 18.400m2

100 staff

450 student beds

Assembly hall with room for 470 people

24 class rooms

4 science rooms
Cinema

2 music rooms

2 dance studios

Wood workshop

Design workshop

eSports room
Media room

Electronic music studio

Gastronomy

3 fitness rooms

Boulder wall

Beach volleyball courts
Sports center with 3 halls

Nature sports center

Wakeboarding facilities

Beach handball


Athletics and running courses


Music studio
See photos of school facilities here
Swimming and wakeboarding
We use facilities and activities in one of the largest activity centers in the North - Landal Rønbjerg.It is also in Rønbjerg harbour that you will find all of our sailing boats. This is why we refer to Rønbjerg as our maritime base.
Apply now or contact us for further information