An abundance of opportunities



Beside the profile subjects and culture subjects you can choose activity subjects and clubs. These subjects change several times a year so you can try a lot of different activities. We use the whole area and have space for your ideas.
Baking
Basketball
Climbing
Design
eSport
Fitness Dance
Football
Handball
Hiking
Homework Club
Illustration
Kayaking
Ceramics
Knitting
Media
Mindfulness
Model UN
SUP Boarding
Sailing
Strength Training
Surfing
Underwater Rugby
Wakeboarding
Windsurfing
Yoga
The schools common areas contain e.g. media, e-music, e-sport, cinema and wood workshop. Outside you can skate, do longboarding, roller skiing, play basketball and hockey, do parkour, shoot bows or just relax at the bonfire. And if you have a fresh new idea there is space to realise it here.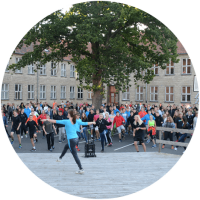 The Multihal is situated right in the middle of the school ground and we use it for playing handball, football, volleyball, we exercise yoga, zumba, cheerleading, airtrack, gymnastics and much, much more. Additionally, we have a big climbing wall to which students also have access under capable guidance.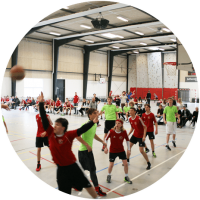 Rønbjerg is our maritime base and the harbour is home to our sailing students and our 10 sailboats. Here, one of the largest activity centers of all the Nordic countries, Landal Resort, is situated. We use Landal Resort for diving, swimming, wakeboarding and stand up paddle activities. and stand up paddle.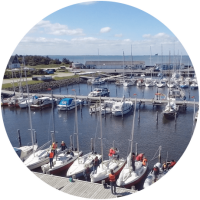 Vilsted Lake is every outdoor students big dream. We have direct access to the lake where we do SUP and sail canoe and kayak. We use the picturesque surroundings around the lake for adventure activities, horseback riding, MTB and running. Or just for a relaxing walk if you need some fresh air.