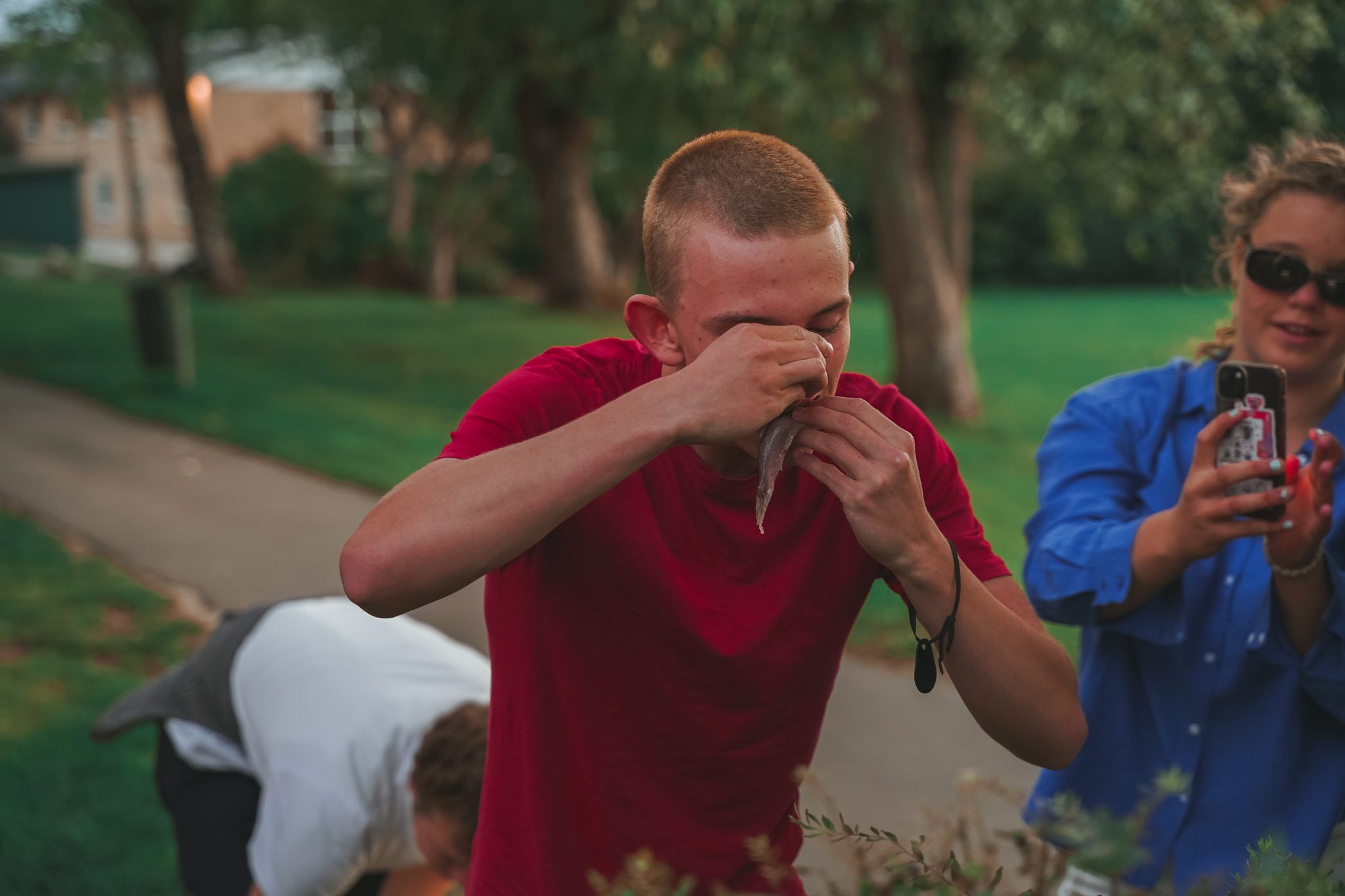 16 Sep

Ranum - An International Afterschool

Dear Reader,

Welcome to another newsletter from Ranum Efterskole. This week we have had an extra focus on the fact that we are an international efterskole. This can easily be overlooked in everyday life where we don't appreciate our multicultural environment enough. Therefore, on Wednesday this week we held International Evening, where we put the international in the spotlight.

Having said that, I guess there's nothing more to say than:

Welcome to Ranum - an international efterskole!
International Evening
After several days of preparation and hard work in the school's gastronomy rooms, the international students, with the help of their Danish roomies, were finally able to host an International Evening on Wednesday evening. The evening offered food and experiences from 16 different countries, including 500 dumplings, a chilli-eating competition and tea-drinking in true London style.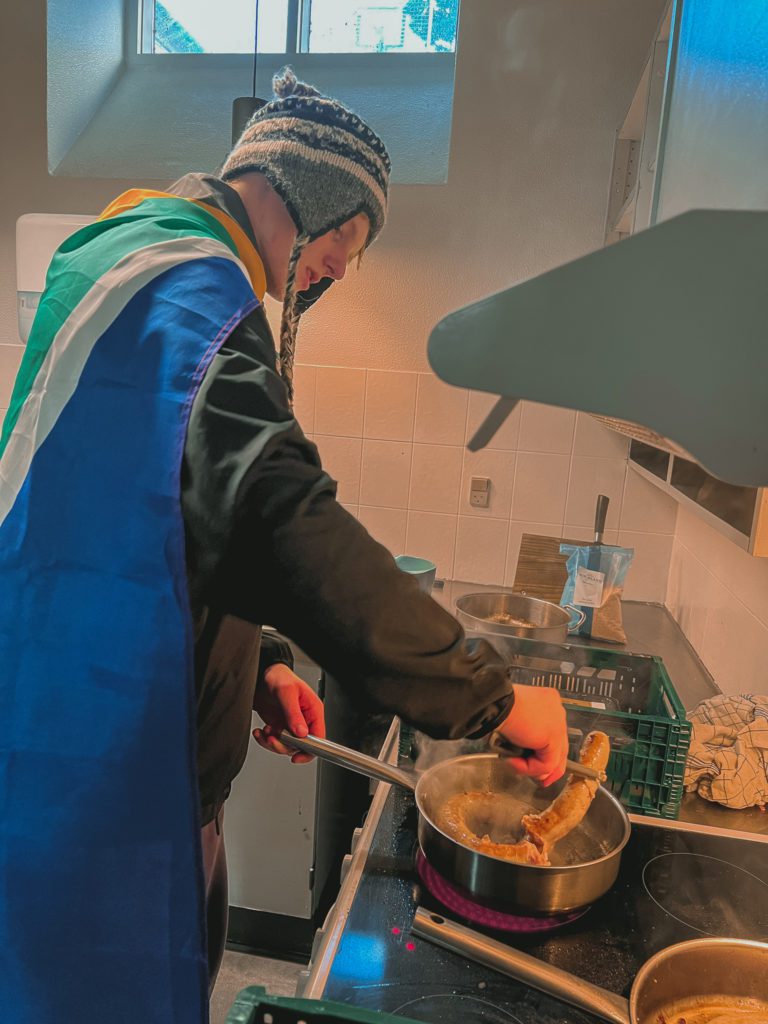 In both Thailand and Israel you could have your name written on the beautiful script, and in the US you could shoot at cans of nerf guns and eat American snacks.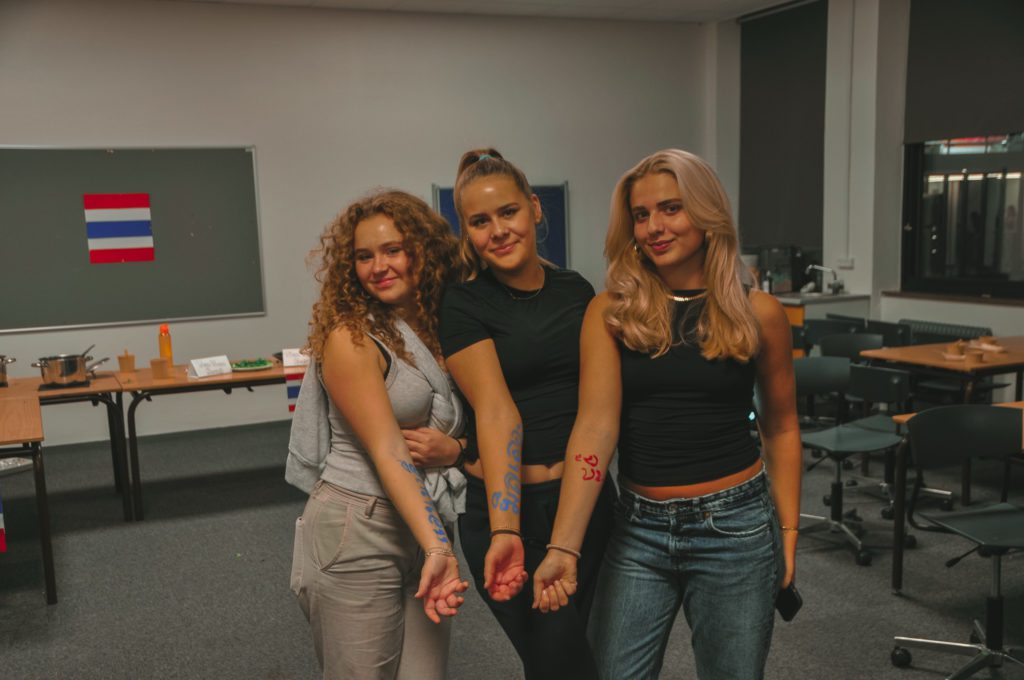 Mexico filled the Golden Horn Hall and there was a festive atmosphere with dancing and tailgating. Sweden had chosen to bring surströmming as a cultural representation, which the whole basement is still enjoying. The students explored the many worlds with a curious and open approach, and the atmosphere was great from start to finish. It was an evening focused on cultural encounters through sensory experiences, where conversations about our many differences and similarities built bridges and true #togetherness.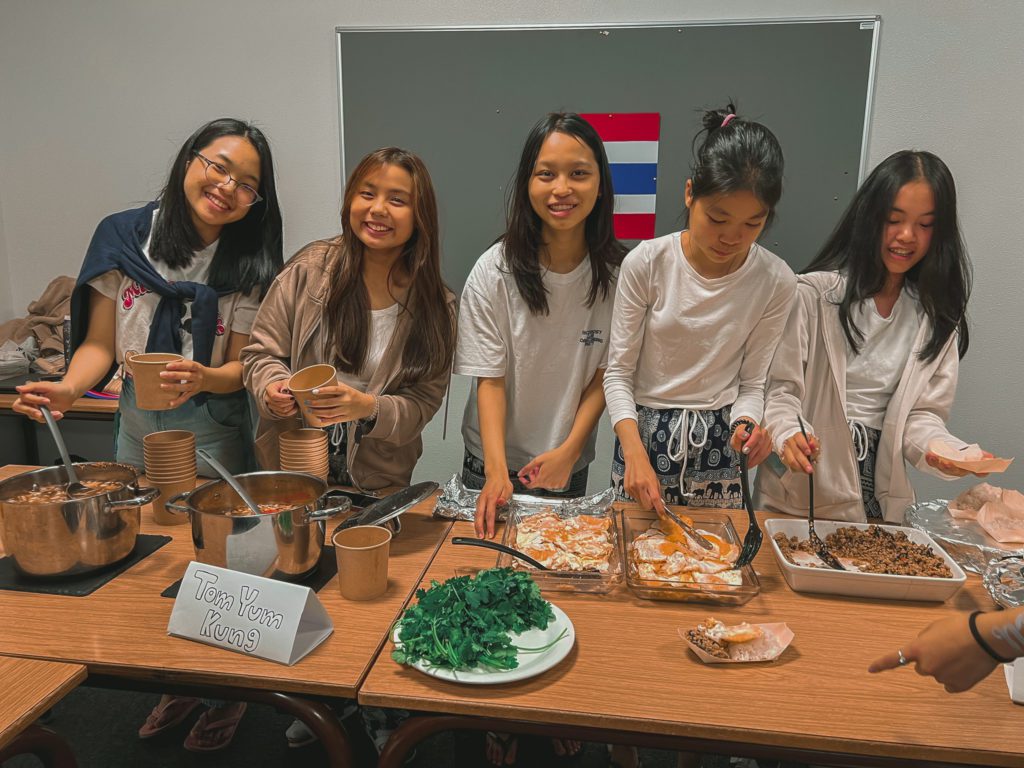 Cohesion at the REC shone brightly that evening, as everyone gathered to lend a hand with both planning and clean-up. The many cultural impressions and shared laughter have also been good preparation for our first profile trip, which is coming up soon.
If you want to see more from the International Evening, you can see the whole album on our Facebook page, by clicking here
Greetings from our international department
Here is a greeting from Birthe, from the international office:
This week we have focused on highlighting the intercultural environment here at the school, how unique it really is in many ways, what it contributes and what it gives us - both here in everyday life, but also in terms of personal development and the future. The week has offered both presentations and our International Evening, where our many international students had chosen to share elements, experiences, traditions with all of us. The evening gave us a little insight into other cultures and in many ways acts as a preparation for the young people before they soon set off to explore other parts of the world. This week also marked the start of several events we will be holding throughout the year to celebrate our diverse group here at the school. Autumn will include Halloween in October and Dia de los Muertos in November, so we are looking forward to that.
A visit to those who walk on 4 legs
Year 9 has been working on a course about agriculture, and on Tuesday they visited a conventional farm. The students learned about how a conventional farm is run and how the cows live on the farm.
It was a super educational trip, proving once again that practical learning is a natural follow-up to book learning here at the school.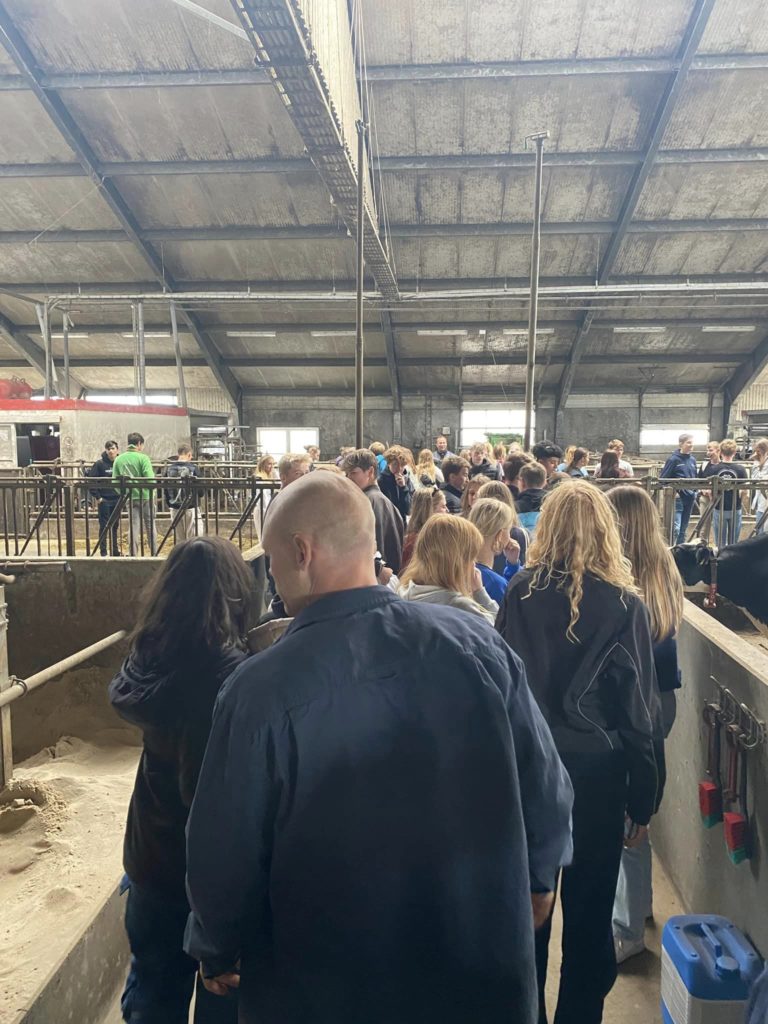 The farm gave the students an insight into the world outside the "Ranum bubble", where everyday life for many is completely different from their own.
Donutfactory in Ranumhus
Here at efterskolen, we try to provide activities every night that will give students the best possible evenings. In addition, we try to spread them out in all the houses, so that it is not only in the teaching building that students gather.
On Monday evening, the fun really started in Ranumhus, where Carsten had served up a real student favourite: Donutfactory! With sugar in their sights, our lovely teenagers are almost in a trance.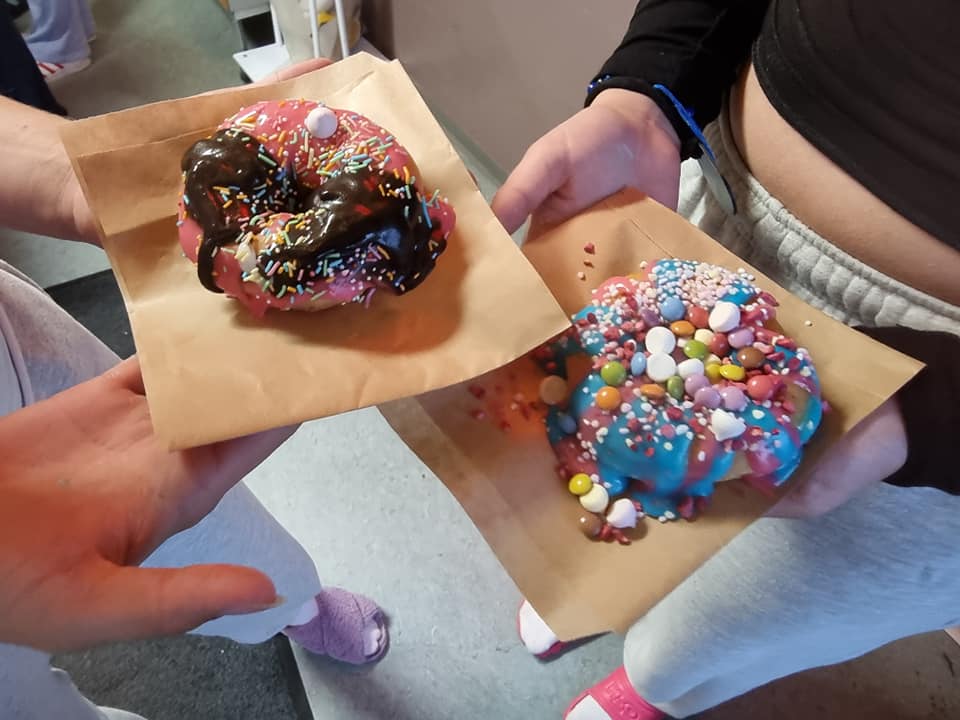 All the beautiful creations were made from decorations such as candy, marshmallows, chocolate, various sugar sauces and sprinkles. You can see much more of our fun evenings on our Instagram, where the students themselves post stories. See more on the Instagram page by clicking here
Afterschools Day - and a 4 km jump!
We are fast approaching one of the biggest days of the year, which is Afterschools Day, on 25 September. On this day we open our doors to families who want to explore what Ranum has to offer. On this day, we will be serving up samples from World Cooking, presentations about efterskole life here at Ranum, and performances from Music and Dance.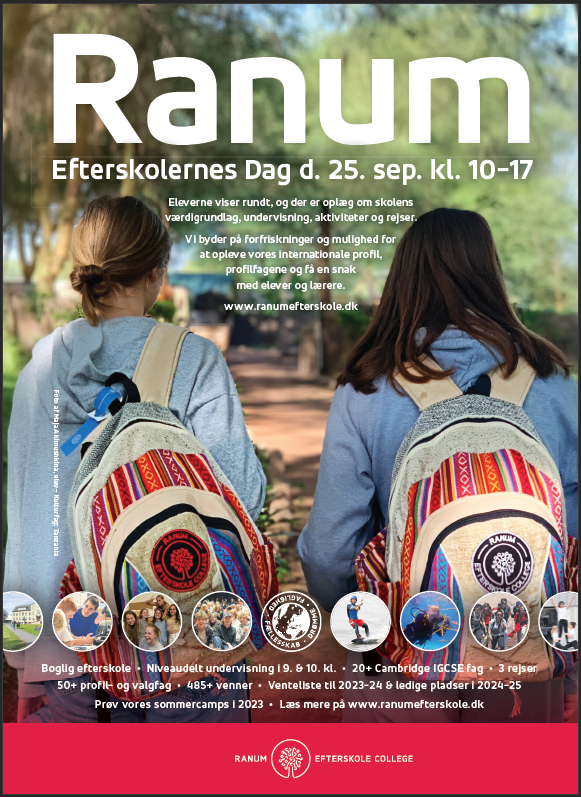 You can read much more about the programme, right here: https://www.ranumefterskole.dk/efterskolernesdag/
You can register for the day by pressing here
But, but, but not everything is as it used to be this weekend. Saturday offers an adrenaline rush from another world when media teacher Sif takes 95 students out - right where they're supposed to jump out of a plane! This is the second year in a row that DropZone Denmark, Denmark's only professional skydiving centre, is hosting the event. Here, all students will be tandem skydiving - from a height of 4,000 metres!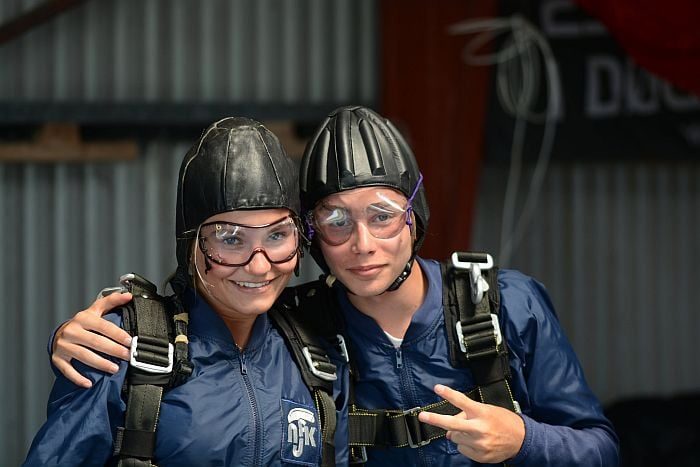 See how the trip went last time, right here: https://www.youtube.com/watch?v=R8vN04gUK1o&t=139s
So we've got the bow ready for next weekend, when the pressure will be pushed to the max!
See you next week!
This was the end of another eventful week here at Ranum Efterskole, where we are quietly working our way towards Afterschool Day.
Thank you for now, from all of us here at
Ranum Efterskole College