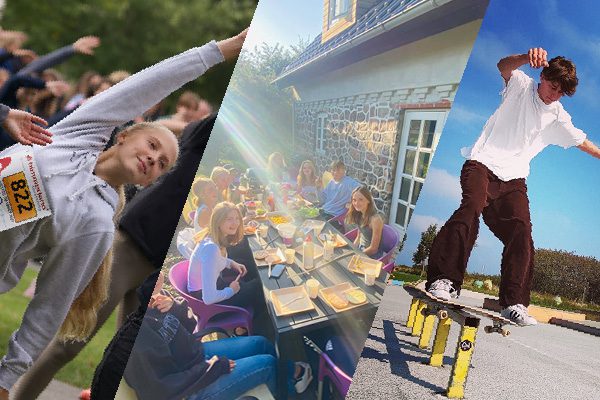 03 Sep

Vilsted Lake Run, contact group time & concert.

Dear reader,

Every week at Ranum is filled with many fantastic efterskole activities and this week is without exceptions.

We are already close to four weeks into the school year, but it almost feels like we've been going for months. The experiences are lining up, making the community's foundation stronger and stronger with each passing week. If it's true that an efterskole year is the equivalent of seven human years, then perhaps it's not so strange, because we're then theoretically 28 weeks into the school year.

We have a great efterskole week behind us - and an exciting Water-sports Weekend and activities ahead of us, with lots of students taking part.

First, let's take a look back to last weekend, when there was a family day and Vilsted Lake Run.

Happy reading!
Family weekend: nepal bingo and cozy family time
Last Friday, our annual Nepal bingo was well attended. Family and various businesses had donated gifts, which of course could be won by participating, and everything collected is sent to our support projects and/or friendship schools in Nepal.
There was also a children's club in the "Svederen", a film in the cinema and a giant jumping pillow in front of the Seminariehuset.
Together we collected DKK 5,020and for that we are very proud and grateful!
Big Thanks to our visitors- families, friends and others. You have helped to make a big difference to someone who desperately needs it.
Vilsted lake run- Denmarks most beautiful run
Denmarks most beautiful run is not an exaggeration, especially on a day like Saturday.
See the album on Facebook(click here)
We consider Vilsted Lake our backyard, and it is used throughout the year for various activities. And of course it is the setting for a fantastic community run - the Vilsted Lake Run. Whether students choose to walk or run, it's a fun day of being active together,
We were 1047 participants! from Ranum Efterskole College - both family and students - and if you were there, you can find your scoring here: Vilsted Lake Run Rankings (click here)
Here is an overview of the fastest runners (students) from Ranum.
4,6 km run
Boys
Elias Høst Reeve - 19:43
Levin Jaz Luca Thomas - 20:56
Tobias Høgsberg - 21:01
Girls
Laura Søndergaard - 21:43
Freja Jin - 23:37
Rebecca Begborg - 25:44
13 km run
Girls
Kirstine Høstgaard - 1:07:09
María Reynoso Mazoy - 2:04:12
Clara Nielsen - 2:04:13
Boys
Hjalte Sander - 1:11:16
Benjamin Fischer-Henrichsen - 1:51:07
Asbjørn Riis - 1:51:08
Fastest teacher on the 13 km. distance was not surprising Anders Kronholt with the time 55:22
Contact group time: a day in the life of the contact group teacher
Students are always curious and excited to go home to their contact group teacher. And of course it's a nice trip - away from school, meeting each other in a different way. It brings the small communities closer and we appreciate the closeness that Home with the contact group teacher gives us.
See all the photos from contact group time on Facebook (click here)
Concert: Life of a Busker
We had a cozy and musical evening thanks to Life of a Buskeras they call themselves "… two Danes who busk through the world🎶🌍".
You can follow them here: Life of a Busker on instagram
And you can read and hear more about them here: https://lifeofabusker.dk/
Profile Subjects: week in pictures
Efterskoles day is Sunday the 26th of September
Ranum Efterskoles Open Day is just around the corner, and I'm sure many of you reading this know what it's all about. For the first time, the roles are reversed, as the students get to proudly show off the school to all the interested young people who visit Ranum on the day. It's an important day for all of us at Ranum, and the students are the best ambassadors we can possibly imagine. That's why the current students give guided tours around the school and tell about efterskole life, as now they are the experts and can answer questions from those considering a year at an efterskole.
If you know a young person who deserves an unforgettable year at Ranum efterskole, please send them to this page: https://www.ranumefterskole.dk/efterskolernesdag/
This weekend is the Water Sports Weekend, where a lot of students stay at the school and try the different water profile subjects
Thank you for reading and following efterskole life at Ranum.
Best regards from all of us
Ranum Efterskole College