22 Jan

Virtual tour, Yoga & Do you know the type

Dear reader,

Another online week is slowly coming to an end, which of course means we've gathered the best stories here in the newsletter. We're jumping straight into it, so welcome and happy reading.
Virtual tour
We stubbornly stuck to the Afterschools Evening and therefore invited to a virtual tour on Monday with a welcome, a little song and of course the tour itself. It was the first time we tried to show around our new 3D scanning of the school, and it was such a success that we will do it again already next week.
Register here or show someone you know the way here.
In the future, it will also be possible for all of you sitting at home to browse the virtual 3D scan. We'll tell you more about that when the time is right.
Yoga, group training and other online activities
There's a lot going on in our shared Facebook group. We do what we can to keep the community alive, and this week's activities have included group training, crawl-around-the-table challenge, Yoga with Louise and Netflix movie night.
Another fun story comes from the Art & Design class with Kristine, where students got creative and made quotes in bread. The one thing to be aware of if you try it yourself is to keep the hungry seagulls at bay. In fact, one student was subjected to outright sabotage when a seagull ate a letter.
Community singing in Ranum
It's become a tradition to share a Friday song with Victor and Halfdan, who are whizzing around the school sofas, and this week they've been joined by Troels. Hopefully it can bring some Friday cheer into the living rooms, and maybe even act as a little warm-up for all you X-Factor watchers out there tonight.
Become an ambassador for Ranum Efterskole College
Denmark is closed and we cannot hold an Open House or show interested people around. We would really like to spread the word about Ranum Efterskole College and are therefore looking for ambassadors to help us distribute our magazine at workplaces, neighbourhoods, friends groups, perhaps the local school, sports club when they reopen. We have time to get out envelopes with 10-20 magazines in the coming week, Wednesday-Friday, and we will return the favor with a Ranum T-shirt and a huge THANK YOU!
Fill in this registration form before Tuesday: Go to registration by clicking here.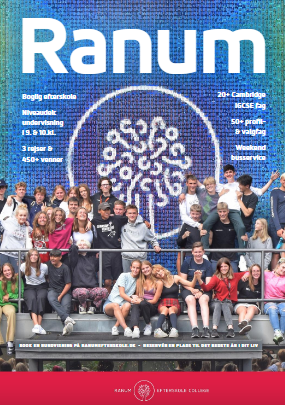 We end with a fun feature made by a group of teachers from Kærhuset. They have reinterpreted the popular DR programme Kender Du Typen and visited a student's room in the best possible way, which you are welcome to guess at home. Watch it below.
See you next week!
Best regards from all of us
Ranum Efterskole College