Freeskiing/Ski touring
Freeride skiing er faget for de elever som I mange år har været på skirejser med deres forældre enten ski eller snowboard, og dermed behersker enten en eller begge disse discipliner.
I Freeride forbereder vi os på skiløb i offpisten. Dvs. at vi på vores rejse vil bevæge os væk fra de afmærkede pister og ud i det man kalder backcountry. Dette vil vi gøre med guidning af en professionel bjergguide, som kender området og har den fornødne uddannelser til at guide folk rundt i terrænet.
I timerne vil vi lave en del fysisk træning da hele ideen med turen er at bevæge sig væk fra skiområdet ved at stå på tourski eller splitboard. Dette betyder at vi sætter skind under vores ski, løsner hælen og får mulighed for at transportere os frem og op ved egen energi. Udover den fysiske træning vil vi bruge en del tid på at snakke snesikkerhed. Såsom at læse fjeldet for lavinefare, vælge den rigtige rute ned fra bjerget og ikke mindst passe på hinanden i backcountry.
Som skrevet tidligere er dette fag for de elever som har stået på ski før og det forventes at man har været afsted på ski i minimum 6-8 uger og kan beherske alle pister på et skiområde. (Altid i stand til at dreje og bremse i fuld kontrol)
Vi vil til Hemsedal i Norge da april plejer at være meget snesikker. Der er god mulighed for skitouring/offpiste/freeride. Vi kan udover tourski også leje splitboardudstyr, hvilket ikke tilbydes mange steder.
Terms
Terms: All students are ensured up to 500.000,- DKK. in relation to dangerous sports, by damages that are not covered
af skolens erhvervsforsikring. Se også skolens sikkerhedsinstrukser for kajak/vand aktivitet. Det må forventes, at der vil være behov for godt udstyr: Rygsæk, støvler, skaljakke, sovepose mv. Du er meget velkommen til selv at medbringe mountainbike.
Self-payment: ca. 6000. Dette går til transport, ophold, mad, liftkort, touring udstyr og ikke mindst lavineudstyr såsom bipper, skovl og sonde.

Teachers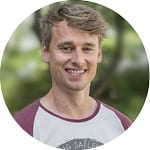 Kristian Fog
Back