Dive and Plunge - Spearfish Hunting
Category
Profile subject P3
Behind the Dive & Plunge profile lies the discipline of underwater hunting. In this discipline we hunt fish with harpoons under the surface, without using oxygen cylinders. Anyone can join in and if you like the water and want to try a different sport, this is for you.
We have classes three times a week and in the beginning we will typically have one day of theory, one day in the pool practicing skills and one day at the water hunting.  We hunt both during the day and have volunteer hunts at night. It is a special experience to sneak through the water and outwit your prey.
Dive & Plunge is built around underwater hunting or uv-hunting, as it is most often called. And as the name suggests, it's an activity where you hunt under the surface.
Uv-hunting is a sport that ties together many elements; shooting skills with a harpoon, knowledge of the nature of fish and the ability to sneak through the water. It's all about keeping a cool head and making the right decisions.
There will be evenings when we go to the water to hunt, make fires and talk about the experiences and hunting stories we get. In Denmark, the range of fish we can hunt is large, and fish up to 10 kg are shot each year. Planning your hunt can be exciting, and the joy and redemption of hitting your target is unmatched. Telling the story of the hunt around the campfire afterwards is also a great feeling - no two hunts are ever the same. And self-shot fish over a fire tastes fantastic.
Uv hunting can take place at any time of the day, all year round. We will try to hunt at different times to get as many different experiences as possible.
The subject contains the following elements
- Freediving, to improve our performance below the surface.
- Practice our shooting skills with the harpoon.
- Learn different techniques for UV hunting.
- Learn about our waters and what it contains of fish and plants.
- The nature of fish, where they are. And where can we hunt them.
- Safety and equipment
- Ethics and morality - sustainability.
- Possibility to build your own harpoon - evening course.
Underwater hunting is of course done without bottles! And everyone can learn. Underwater hunting must be experienced, it's incredibly intense. The silence below the surface and the adrenaline rushing through your body at the sight of prey. The destination is not yet decided, but will be within Europe. The subject has previously travelled to Norway
Terms
Terms: Students at Dive and Plunge must be interested in working on mental training, hunting ethics and morals, as well as being in good health. All must pass a 300m swimming test. Read more about the school's safety instructions for the maritime activities.
Self-payment: Approx. 5.000,- kr. - depends on the destination. We are considering Corfu for the 3rd period
Teachers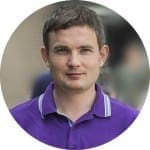 Thomas Sloth