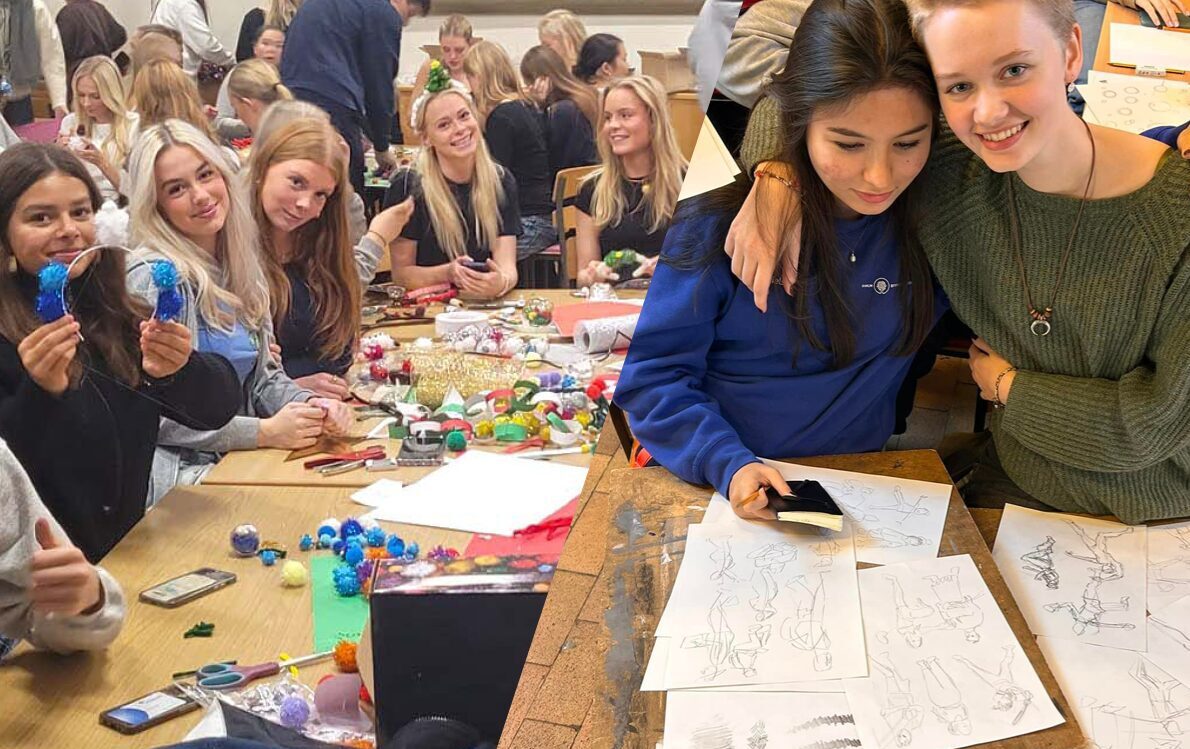 16 Nov

Ranum's magical Christmas spirit has arrived! Christmas cosy weekend & TEBO

Dear reader,

Ranum's Christmas spirit has been present at efterskolen, leaving behind Christmas spirit among the students and long strings of lights in the ceilings. In addition, one of our cool students has won a short story competition, TEBO has started bridge building with carpenters and mechanics, and the students are collecting money for a good cause. You can read up on all the week's highlights in the newsletter here.

Have a great time and enjoy. And have a great weekend!
Christmas-hygge Weekend
We've now hit November, where the days feel shorter with darkness falling earlier. However, it's nothing that the students in Ranum can't fix with a little cut and paste and creative minds. Last week, we organised a Julehygge weekend, where we decorated honey hearts and braided Christmas hearts galore. We couldn't be more ready for Christmas than we are now!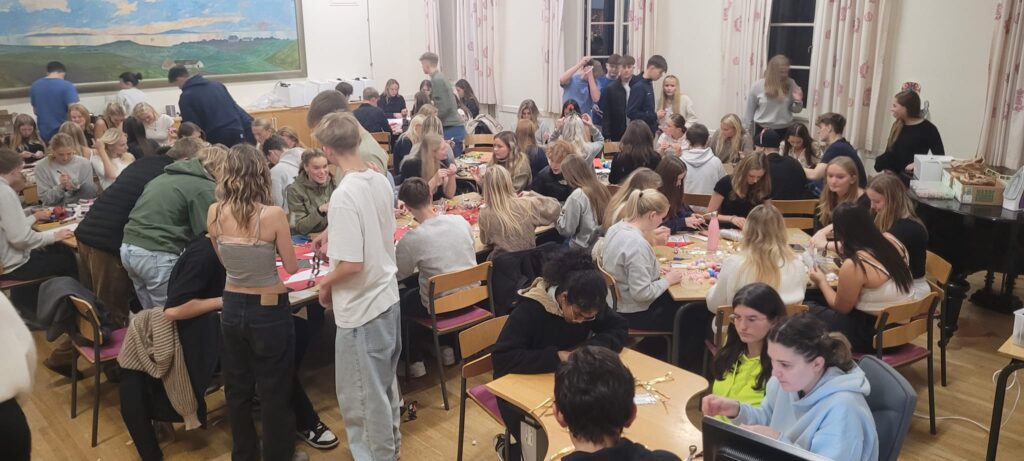 Thank you to everyone who participated in the Julehygge Weekend and made the entire Ranum Efterskole College an even more magical place to be!
Camilla wins short story competition
Camilla Sofie Rhod Mikkelsen won the short story competition at the Johannes V Jensen Museum today with her interpretation of the theme "On the Edge". She received a diploma and DKK 3,000 at a beautiful award ceremony with a speech, reading of the winning short story and music. The short story will soon be available on the museum's website along with the short stories that won 2nd and 3rd prize. Congratulations to all the winners and thank you to the girls who travelled with Camilla to the event.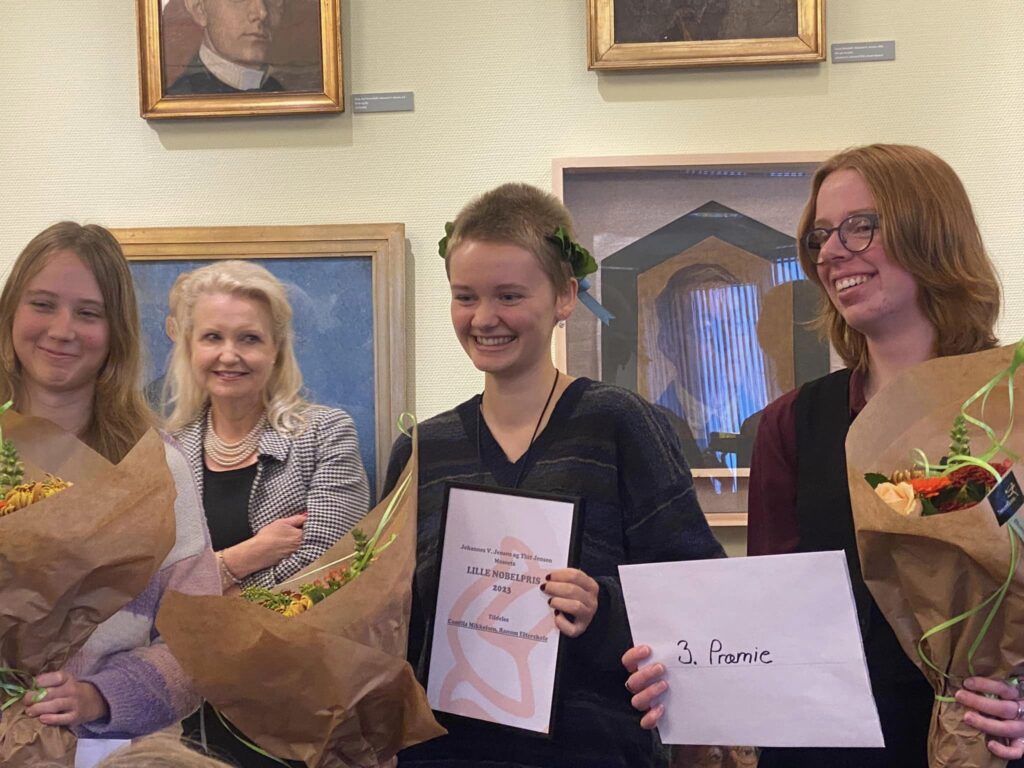 TEBO
Ranum Efterskole College has developed a bridge-building project in collaboration with UU Centre Vesthimmerland and a number of upper secondary schools. Students must choose between different worlds or industries in their bridging programme, where the various youth education programmes work together to give the student a realistic experience of the path to a specific industry. In this connection, the students have been on bridge programmes with carpenters, mechanics, visual HF and Vesthimmerlands Gymnasium. So cool work!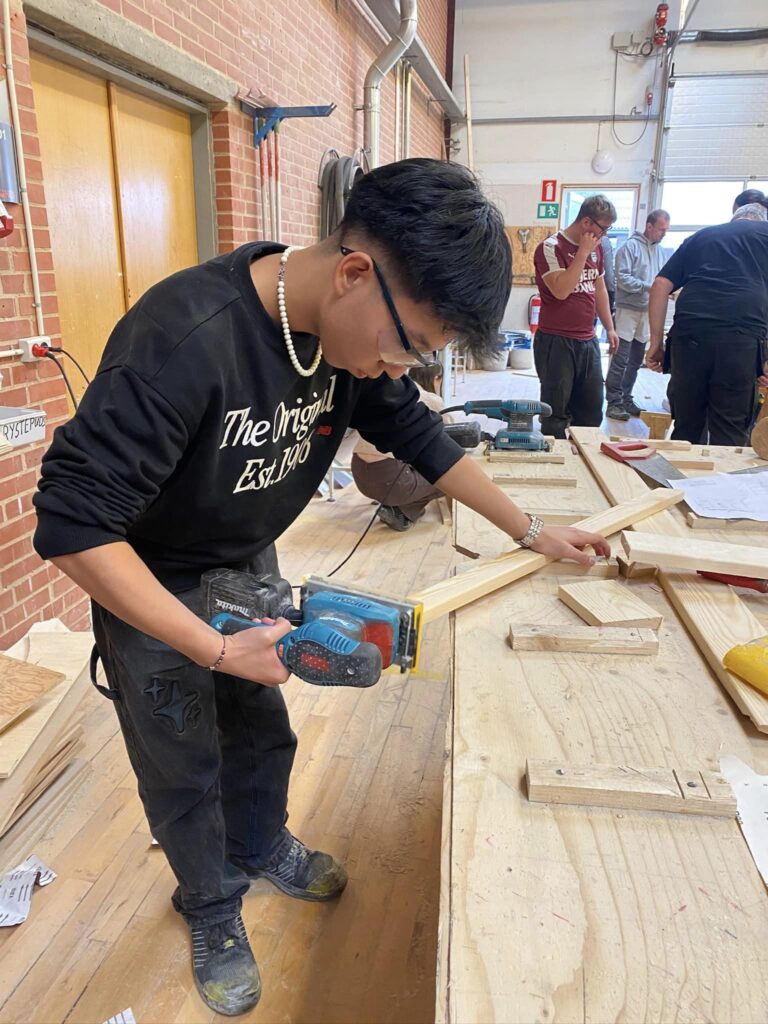 Entrepreneurship with balloon animals
In business studies, we will be working with entrepreneurship in the next period - from the initial idea to a finalised business plan. To think outside the box, students were given balloons and tasked with making balloon animals. This led to a lot of laughter, frustration, tantrums and a realisation that what looks easy isn't necessarily easy. It was also clear that we each have different competences. The class ended by showing them Jeff Koons' balloon dog - and he's made a fortune from it - so no idea is too outlandish.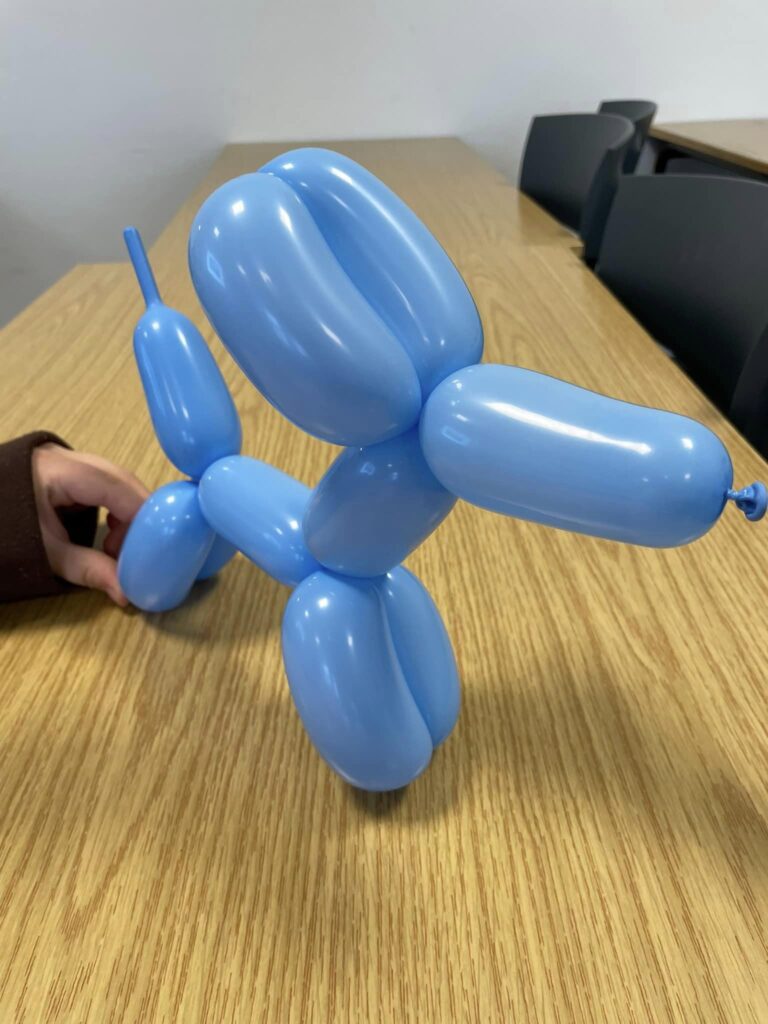 Cookie stand - A good cause
Delicious cookies have been baked with love by the students who are travelling to Namibia on a cultural studies trip. All proceeds go to the N/a'an ku sê Wildlife Foundation. And good they were!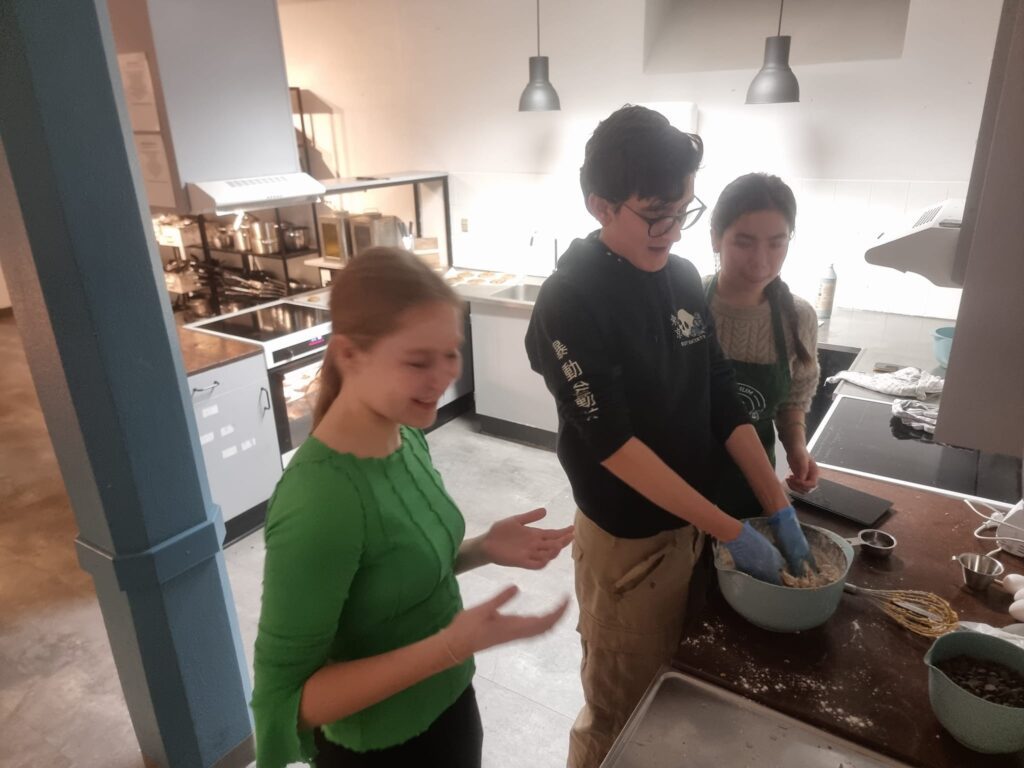 Global issues we care about
Downstairs in the 0' hall in Semi you can now see a small exhibition of embroideries made by a fantastic English class in Year 10. It's a WORK IN PROGRESS and shows some of the global issues that the students are interested in. The exhibition will grow in the coming weeks as two more classes will join and you will be able to see them until the Christmas holidays.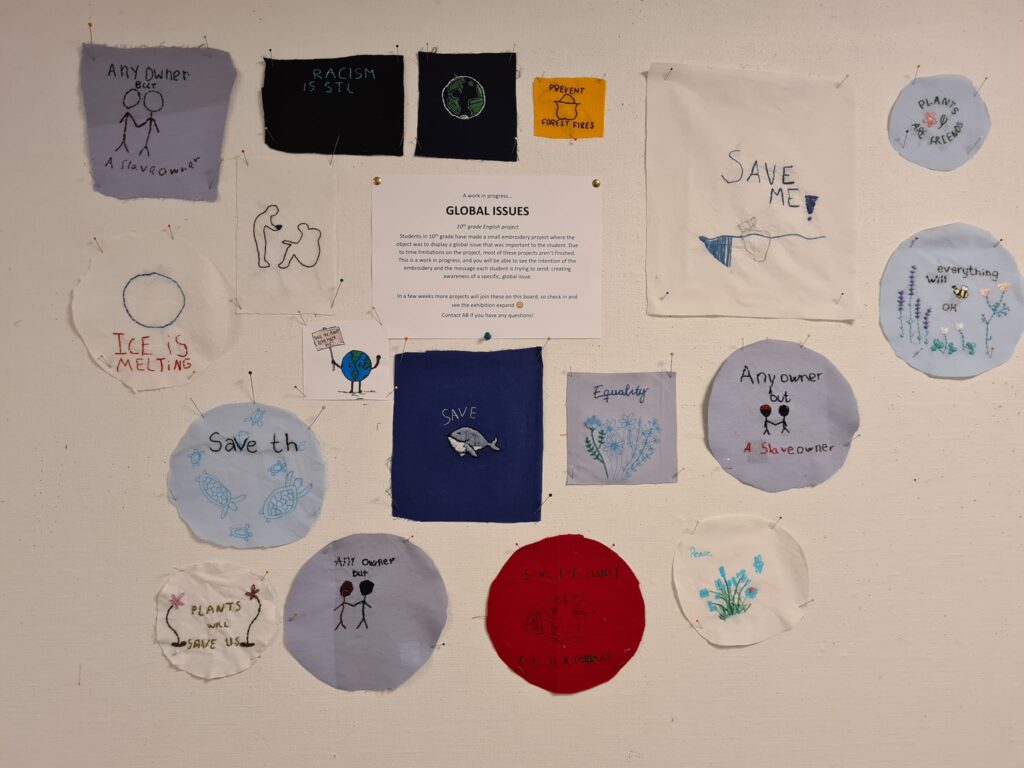 Headmaster's column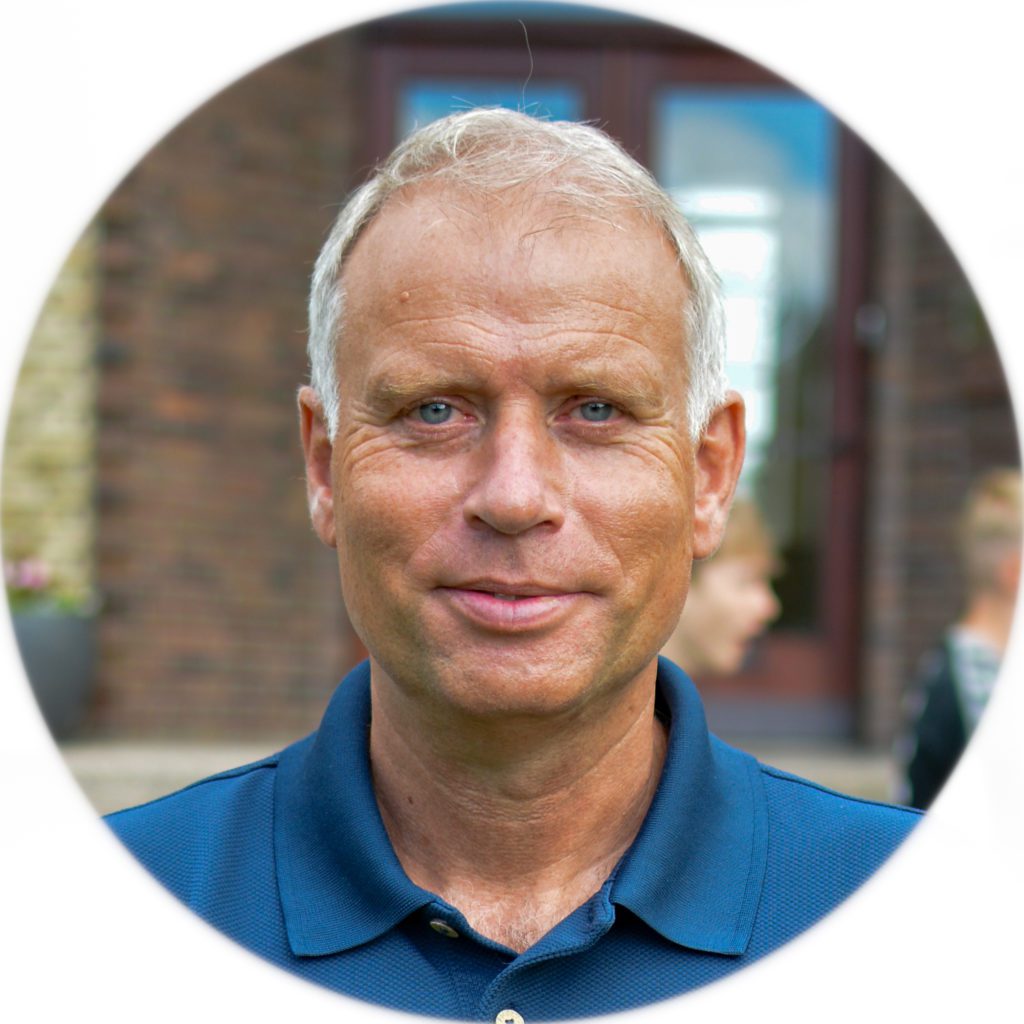 In a world where Iceland is cracking and the largest countries are drifting apart, it is more important than ever to seek out and create good relationships for young people to meet and learn about each other's lives, develop an understanding between peoples and strengthen a foundation for peace in the world.
This week, teacher Ning Xu and I have visited 6 schools in Hong Kong, Macau and Shenzhen. At each school, we have either set up co-operation agreements or made agreements for summer school and return visits. The hospitality and interest we have been met with also helps to create a foundation for Ranum Efterskole College to become even more diverse and international in the future.
A special aim of the trip has also been to study how schools are working with technology in education and it has been really exciting to see young people building and programming robots with the help of the best teachers and companies. We have studied how to create a FabLabs under MIT and as the first efterskole to join a network of schools around the world. It's hugely inspiring to travel the world on school visits, but it will also be great to come home to Ranum and experience the Christmas spirit overcoming the November darkness.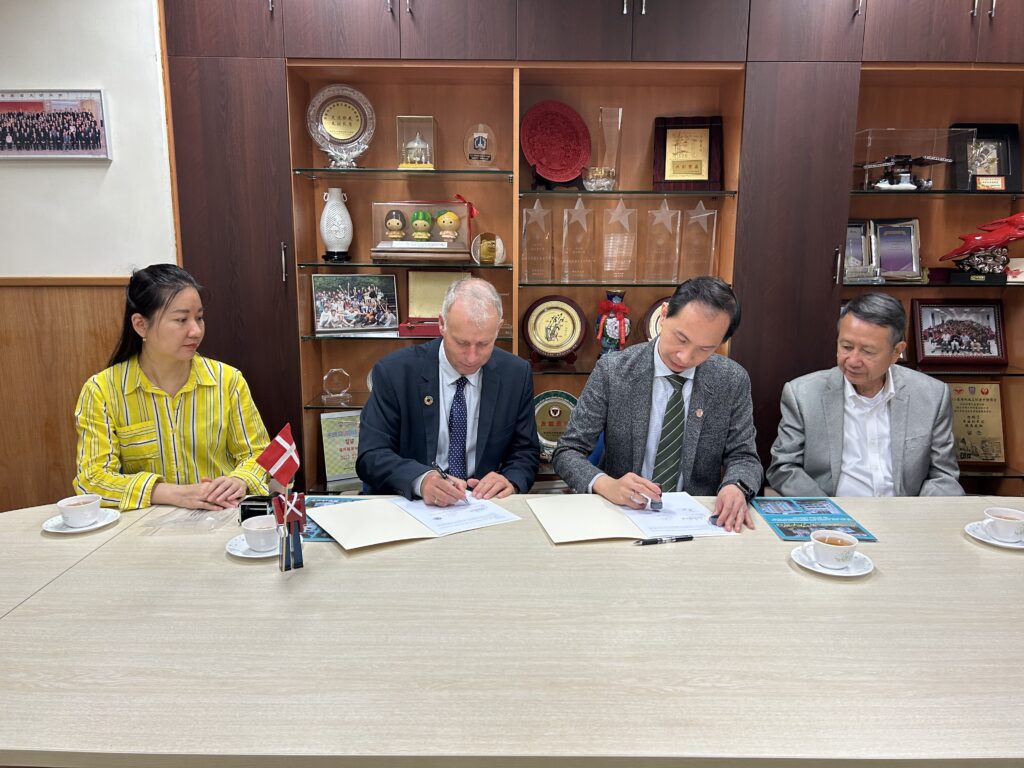 Official signing ceremony of the co-operation agreement between Po leung Kuk Law Foundation School and Ranum Efterskole College. The first students will start their mutual exchange already in April.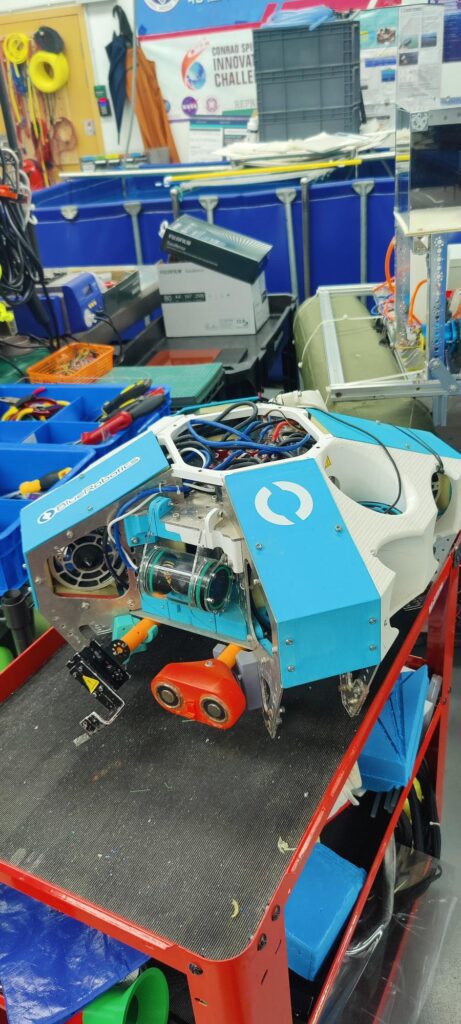 Visit the FabLab at Pui Ching Middle School in Macau, where a student designed and built this underwater robot!

Have a great weekend - and sibling weekend!
Olav Storm
It happens
21.-23.11 TEBO Project assignment
25.-26.11 Siblings Weekend
29.11 Vaccination offers for Cultural Subject Travelling
29.-30.11 Imagination Week
2.12 Imagination Day
Siblings Weekend
We're ready for the sibling weekend! Students' siblings will have the opportunity to experience an entire weekend at Ranum Efterskole College on 24-26 November 2023. Read the invitation below for even more information about the activities on the days. You can already sign up for the sibling weekend on SkolePlan.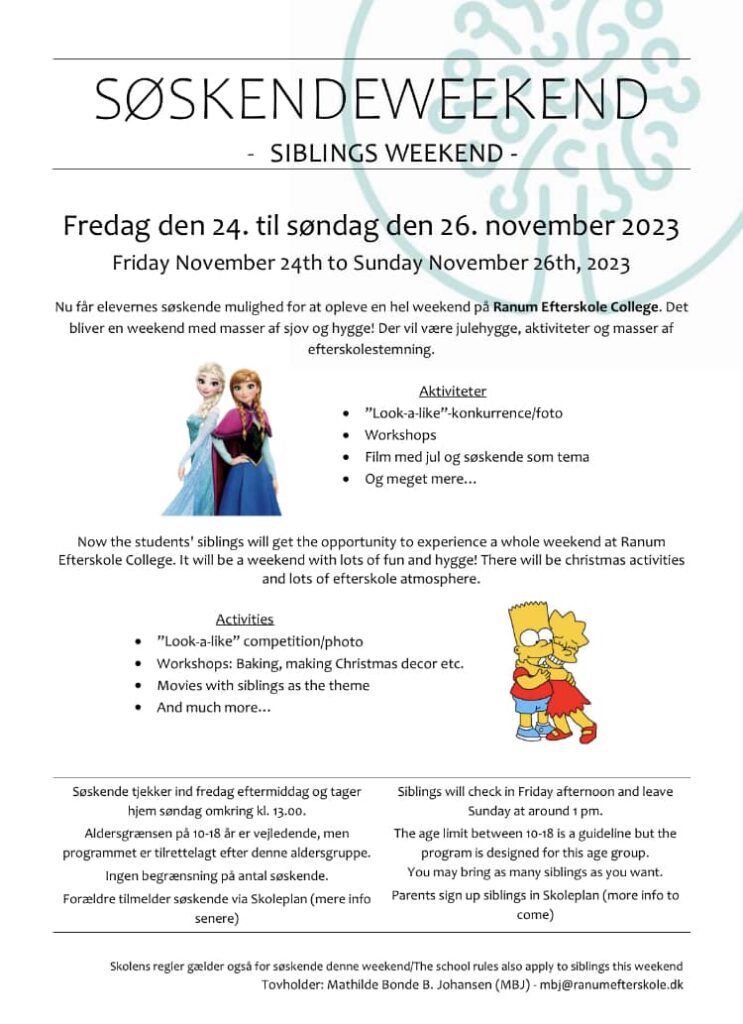 Culture & Imagination Day
We have started the countdown to Culture and Imagination Day! Students are busy preparing for the traditional Christmas market and the talent show "Global Factor". Creativity is key, as the students create everything from top to bottom. Our "Global Factor" logo has also been produced by our Media team! And don't forget you also have the opportunity to buy this year's Christmas tree on this day. We hope to see you there!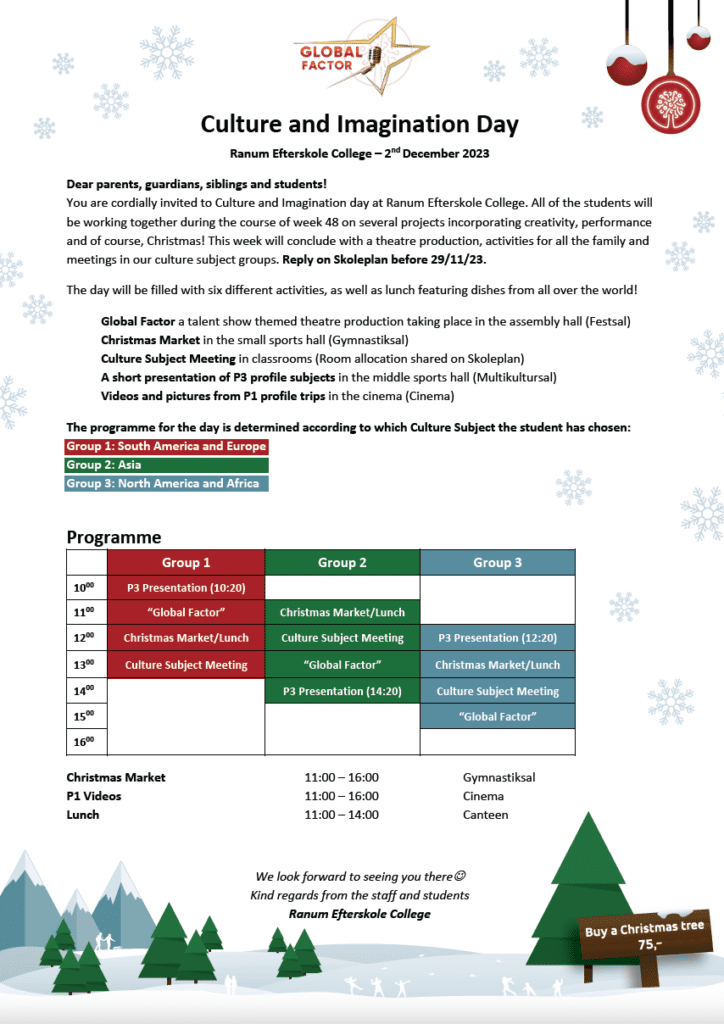 Thanks for this time!
Best regards from all of us at,
Ranum Efterskole College