01 Apr

An Oscar night, a marathon day and a look ahead

Dear Reader,

Once again we have the privilege of sharing our wonderful efterskoleliv with you, and taking a look at some of the big events that have shaped the past week. So sit back, find a spot in the sunshine (or is it snow where you are?), and get ready to dive into our efterskole bubble.
#ProfitNotPeople
As mentioned in last week's newsletter, last Friday saw the #PeopleNotProfit march organised by Ranum's own Climate Club. The strike was shown on TV2 Nord, and you can see the report by clicking HERE . The event was a huge success and we are so proud of our tough students who pulled off the strike.
Marathon Saturday
On Saturday, 13 brave 1TP5 students, led by our all Fit For Life teacher Peter, took to the Danish countryside to run a marathon (yes - you read that right). It was the initiative of student Spence, who also took part in the marathon, that the event took place - and was a huge success!
It gives an extra special boost to make things happen when students come up with such good suggestions and ideas, which we always try to follow. The students were lucky with the most beautiful spring weather and we can now report that:
All participating students completed - even with the support of some sports tape, blister plasters and a visit to the housewife Karina, who gave some well-deserved explanation and support. We are SO proud of these awesome students, as you can see below:
The remaining students at the school also enjoyed the sunny weather on Saturday, including basketball, volleyball, hot tubs and sauna!
With such a good Saturday, you're probably thinking: can Sunday be as good? And to that, we just have to say: HELL YEAH!
Oscars Night!
On Sunday evening, Oscars took place, and with it, 50 students were able to gather in our cinema and enjoy a wonderful Oscars night. No Oscars night without snacks, duvets, a red carpet in nightwear - and of course, lots of good vibes. A bottom solid night where almost everyone made it through without falling asleep - now that's something!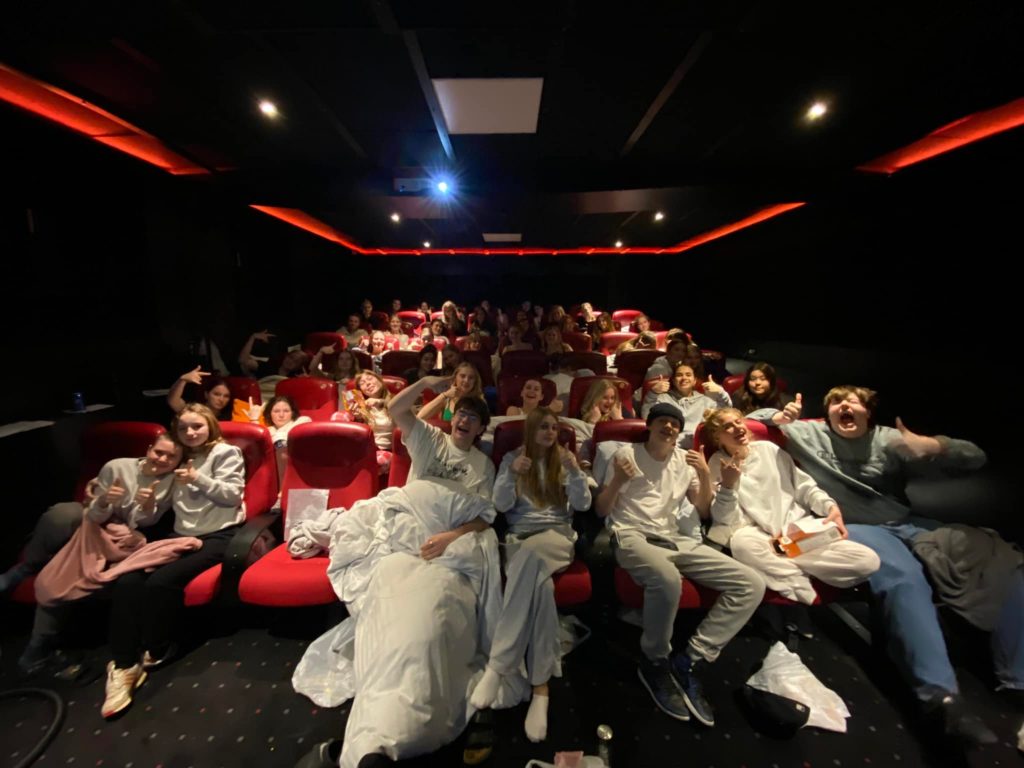 A look ahead
When we look at the past week, we have to look a little ahead. Because next week, is going to be one of the big ones.
Shakespeare specialist Kieron Jones will be visiting Ranum from Monday to Friday next week. He will be a guest teacher in English classes, and will also be holding a Masquerade Rave at the Loft on Thursday next week. We can only say one thing - we're looking forward to it!
On Monday, two police officers will also visit Ranum to give 20 students the chance to try out for the police entrance exam. Once again we can only say - we are looking forward!
On Monday there will also be a talk by SOS Children's Villages, who will tell us about their work in the world. Once again - we look forward to it!
Thanks for this time!
Thanks for this time and for once again enjoying the dive into our past week. See you next week, to once again, and dwell in efterskolelife.
Have a great weekend, from all of us at
Ranum Efterskole College