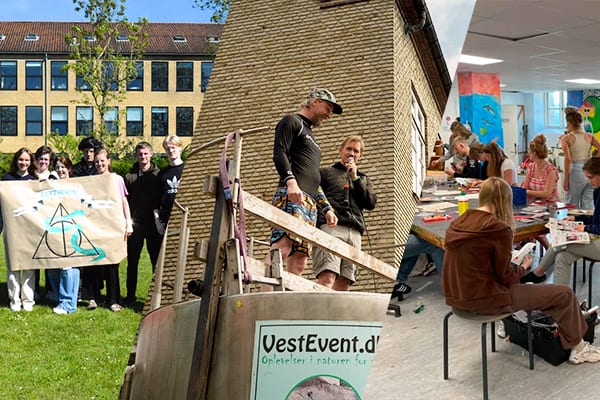 04 Jun

Last day of school, Harry Potter and New Students' Day

Dear reader,

We're back with another newsletter, which will be one of the last ones in this school year. There are three weeks left, and we will spend them in the best possible way. We are going to travel and have fun, and also enjoy the last time we have together. Before then, we have to take a look at the past week, which for most has offered oral exams and lots of efterskole life - there have been a lot of activities both at school and out of the house. Happy reading!
Last day of school
The last day of school took place outside the classrooms and was filled with fun activities and lots of smiles. The students tried their best to win tickets to the main attraction "Dunk a teacher", and you can see how it went below.
See more pictures (click here)
What most people had probably been waiting for was to "Dunk a teacher". It looked quite fun when the ball hit the spot, and the teachers fell headlong into the barrel.
Harry Potter Day
Welcome to Hogwarts - the school of witchcraft and sorcery - and welcome to an enchanting bunch of pictures from a day with an empathetic efterskole universe.
This year we have had a lot of exciting and new profile subjects, and one of them was Harry Potter. The students planned an entire day with a Harry Potter theme, and the school was thus transformed into Hogwarts, so that everyone could experience how a day in the world of magic goes.
New Students' Day
This year, unfortunately, we could not welcome the new students at the school, and therefore the meetings took place digitally. Fortunately, by now we are quite good at online meetings, and that made the day enjoyable - despite a bit of inevitable nervousness. We are still looking forward to seeing all the new faces after the summer holidays for a good start to the coming efterskole year.
Memory Books
The Design room has been open and well attended in recent days as students have begun writing and decorating their memory books. Some postpone it because it can be difficult and is a symbol of the end of the year, but there are also many who enjoy it and get a memorable imprint that they can take with them together with all the good memories.
Visiting Northen Italy
We are just about ready to go on a travel - about 99% ready! This week we have had three employees in Northern Italy to inspect the Lignano area and Bella Italia Village. We have planned a lot of activities, and the content for 17 different profile subjects, joint activities and cultural excursions. The sun is shining from a cloudless sky, the air is 25 degrees and the water 20 degrees.
We are looking forward to travel with the students, and we wholeheartedly wish for a good experience.
That is it for this week. As always you can follow the efterskole life at Facebook, Instagram and Youtube.
All the best,
Ranum Efterskole College