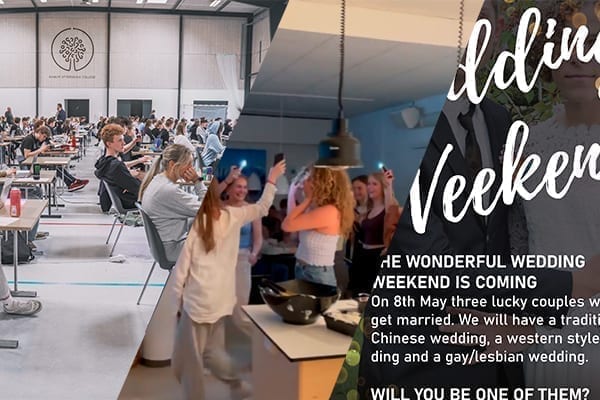 07 May

Written exams, Gala partners (?) & Wedding Weekend

Dear reader,

The headline of the week is written exams, which have been a big part of both schedules and leisure. We have come through very well, and now, the wedding weekend fortunatelly starts in a shortwhile. Preparations started several weeks ago and tonight there are rehearsals. We have many amazing and different couples to get married - and like the color party at the beginning of the year, the wedding weekend is a tribute to diversity and community.
Written exams
Monday started with written Danish exams for both 9th and 10th grade, and despite some start-up problems with a hard-tried internet, everyone got through well. The students took it in stride, and there was great praise from the exam guards and supervisors.
It is perhaps the largest exam we have ever had, and it looked quite impressive when the students sat ready at the computers in Multihallen.
"Will you come with me to the gala?"
The students have started looking for gala partners, and as recently as yesterday, a student came walking with a horse in one hand and a bouquet of flowers in the other. Another turned off the lights for dinner, allied with a group of faithful companions, put on romantic music, and asked her date in front of the remaining eating students.
And to all those who still need to find one, don't worry. There is still a long way to go, and besides, you also have to learn to dance lanciers first - here, there are also good opportunities to ask someone.
Weddings in all shapes and colors
Tonight the wedding weekend starts, and it's something that many have been looking forward to. Firstly, it is a good opportunity to dress nice and secondly to have a nice evening with good food and fun activities.
Ning is the leader of the weekend, and she manages the team of students who help plan the weekend with a firm hand. There are great deal of things to plan. And if you follow along on our social media, you can experience a true efterskole wedding. For fun, of course, but just as beautiful as any other wedding.
Become a host family for an AFS student
By August, we are lucky enough to welcome a lot of young people from all over the world. In this connection, our partner is looking for host families for the AFS students who come to Denmark with the desire to experience both efterskole and Danish family life. Over the next few weeks, we will present some of them to you and encourage you to contact AFS if being a host family could be something for you. Here you can read a little more about Archie from Thailand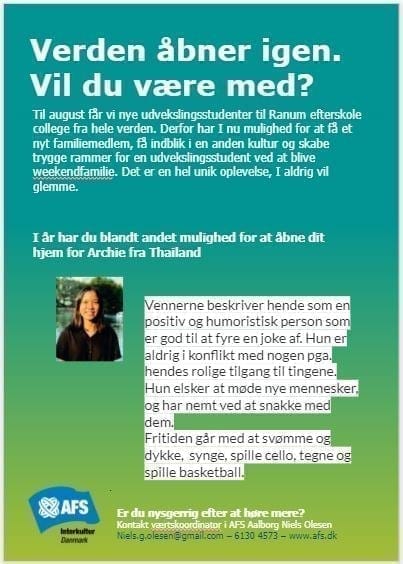 Sofa Session with a twist…
Like we said, it's gala/prom time. And if you watch the video to the end (especially you're the one), then you'll see that this Justin Bieber song brings a little twist with it.
Well done, Frede!
That's it for this week. See you next Friday!
All the best,
Ranum Efterskole College