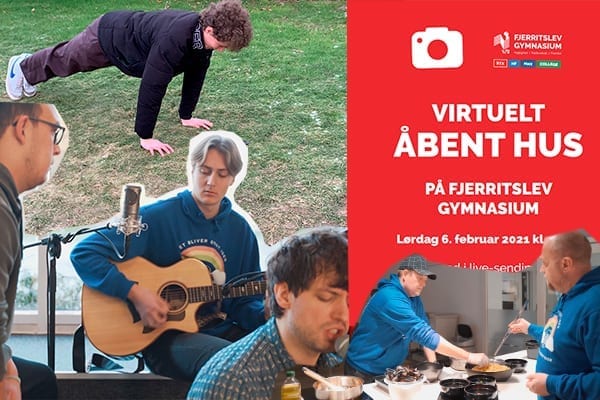 05 Feb

Mussels, Teenagers at Home & RanumTogo

Dear reader,

We have reached the end of another week of online community and activities. We still miss each other and our efterskole community, but we get the best out of the opportunities we have after all.

We had a greattime in the kitchen, where we were presented with three beautiful mussel dishes. Also, there was a nice lecture with Ann E. Knudsen on how to survive with a teenager in the house. The Ranum ToGo video was released with a lot of touching reactions and finally a nice Friday with movement and contact group time.

All this and lots of other great things, you can read about here in this week's newsletter. Happy reading!
Lots of mussels: TV Kitchen with Gastronomy
Peter was the kitchen host when we came together for a communal cooking. Mussels were made in three different ways, and Rikke, Jesper and Jakob guided us nobly through.
Online lecture: Ann E. Knudsen talks about life with teenagers at home
How do you survive with a teenager in the house? Ann E. Knudsen touched on this when we invited to an online lecture. Hopefully, parents and students got an experience that you are not alone with the challenges that may be. Among other things, she answered the questions:
Why is the combination parents / teenagers often loaded with dynamite?
Can / should it be different?
Is there really "closed due to remodeling" in a teenager's brain?
Why can they be so difficult to get along with?
Watch the video: Teachers express / Ranum ToGo
Last week we went around the country with packages and efterskole love for all the students. We recorded some of the reactions and it came to look like this.
Thank you to all of you who have sent us positive feedback - we really appreciate that - and it was a great pleasure for us.
Virtual Tour: We do it again!
We're having another virtual tour on Thursday 11th of February. Last time was a great succes, so we want to do it again. So if you know someone who deserves a great efterskole year and who would like to see Ranum in the best way possible right now, send them by The guided tour page here: Virtual Tour on 11 February at 16.30.
Open house at Fjerritslev Gymnasium
We continue in the virtual world:
Come to Virtual Open House at our partner school Fjerritslev Gymnasium. Fjerritslev has just inaugurated a brand new College, so you can stay cheap and take an STX, HHX or HF, while you are close to nature, surf in Cold Hawaii and MTB in Svinkløv, or practice Esport at a high level.
The live broadcast can be followed via https://www.fjerritslev-gym.dk/aabenthus/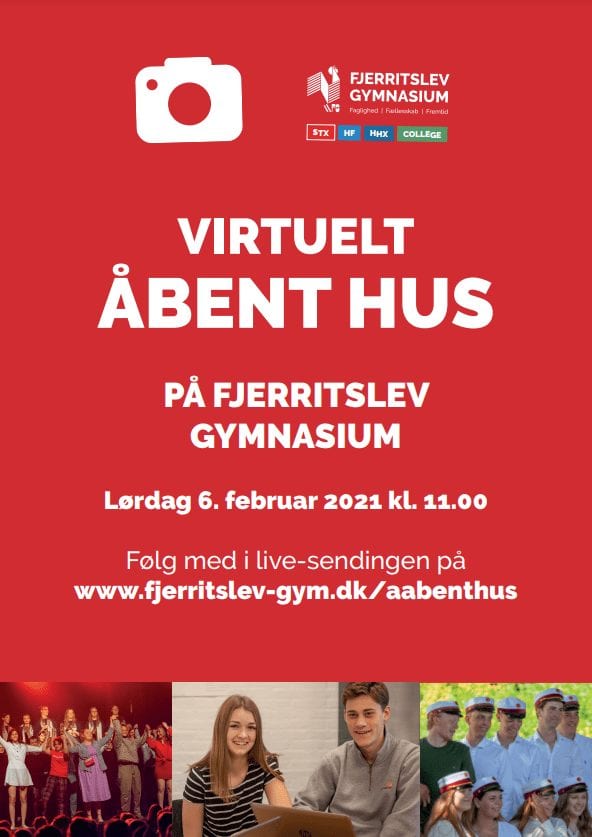 Friday fun and movement
We started on Friday by getting out of the rooms and moving around - this of course had to be documented in different ways, and the contact groups had to work together on a number of tasks. Later there was contact group time where some baked and cooked, others made online escape room and others again played virtual games.
Denmark's collection: We support and participate
Support Danmarks Indsamling via our payment code https://www.mobilepay.dk/erhverv/betalingslink/betalingslink-svar?phone=333867&comment=DIEFT%20172&lock=1 –
Then you can see live how much is being collected https://danmarksindsamling.dk/skoler/resultat-efterskoler/.
The efterskole that raises the most money for Danmarks Indsamlingen receives a donation from the Spar Nord Foundation, which is earmarked for a community-creating activity.
Saturday, February 6 at 13.00 the results from all participating efterskoler are counted together - and the efterskole that has collected the most among all participating continuation schools (ie not just the first 20) receives a donation from the Spar Nord Foundation. The amount is earmarked for an event for the school for the benefit of the community.
More info can be found at: https://danmarksindsamling.dk/skoler/efterskolernes-indsamling/

Sofa Sessions: Friday song in Kærhuset
Friday is now straight with Sofa Sessions, and this week it takes place in Kærhuset with Carl. Enjoy the song in the video below.
And with the beautiful pictures and beautiful tones, we welcome the weekend. Thank you for the week that has passed - see you again on Monday.
Best regards from all of us
Ranum Efterskole College