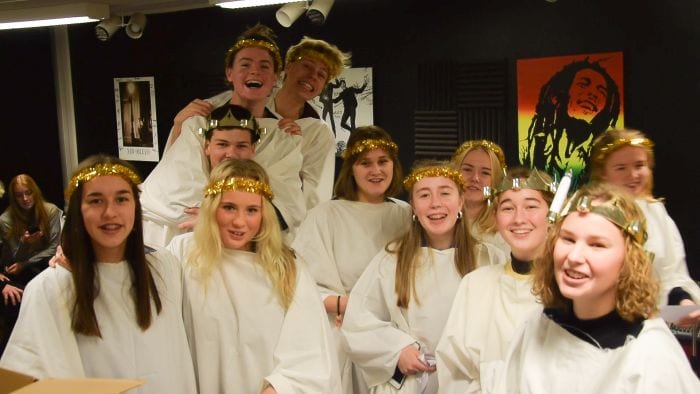 14 Dec

Heads full of exams and profile subjects

Dear reader,
In between all the Christmas cheer, students were introduced to the third period profile subjects this week, but the one we've been looking forward to the most has been Thursday, when term exams got underway. Some students used the time to the full, while others were quicker to get their wise words down on paper. What all the students had in common, however, was that they had all found their best 'survival pack'; Christmas sweets, a single mandarin, soft drinks and maybe even some chocolate found their way to their table.

Introduction to profile subjects
At Ranum we love to try new things. That's why we had such excited students at the profile introduction for the 3rd period. We may only be writing December, but it is still time to think about how students will design their last term of the school year. As always, the range of profile subjects is a mix of pupils' and teachers' wishes for the last term of the school year; are we going on a ski trip, making our own podcast, getting a bit more drama and theatre into life, getting a bit more exercise with cycling or are we preparing to become the world's new sustainable fashion experts? The possibilities are endless, but students can only choose one subject. That's why Tuesday's introduction will also be used as a springboard for students to vote for the most interesting subjects. In this way, we'll have a good overview of this year's students and their wishes, so we'll have an idea of what our final term of the afterschool year will look like.

Lucia parade
On Thursday morning, before the first term tests, we started with one of the nicest Christmas traditions: the Lucia procession. But why is it that we choose to walk around with lights in our hair? According to legend, it's because of the Catholic saint Santa Lucia. Santa Lucia lived as a Christian in the Roman Empire, which meant that the Romans considered her an enemy of the Roman Empire. According to the story, Lucia chose to brave the dangers to bring food to the city's poor, but to find her way she had to walk around with a garland of candles on her head. Despite her generosity to the town's poor, she was later executed for her choice of religion. In high spirits on an early December morning, both girls and boys donned the traditional white dresses as candles were lit in honour of Santa Lucia.
On weekends we should relax completely and just take it easy. It's wellness weekend and that means winter bathing, sauna or a walk in the woods, depending on who you are and how you define wellness.
Next week we continue the term tests before we start the last Christmas party before the Christmas holidays start.
Have a great weekend!
The best Christmas greetings from all of us at
Ranum Efterskole College