10th grade
A 10th grade programme at Ranum is much more than just a school year. You can choose to design your own academic programme with danish and international subjects as well as exciting optional subjects that will develop you personally.
10+ prepares the students for the upper secondary school. In the 10+ you can construct your own timetable with lots of different possible combinations. The subjects Danish, English, maths and sports are compulsory subjects, but additionally you will choose 3 optional subjects - hence the name "+". You can also supplement with optional profile subjects like Green Fingers, eSport Pro and Inter Culture Class.
10IG is for students who wish to try the english international Cambridge IGCSE lesson plan and possibly wish to visit an IB school.
Subjects in the 10th grade
In this graphic you can see which subjects we offer in the different 10th grades here at Ranum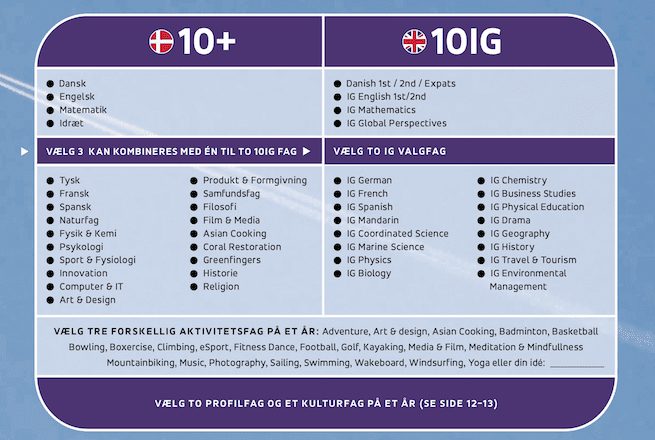 Specifics about the 10th grade
10+ is targeted at the upper secondary level educations. The lessons are levelled in the compulsory subjects Danish, English, maths and sports. Besides these subjects the students can construct their own timetable with a wide variety of optional subjects. You also have the opportunity to choose a thematic optional subject programme, like e.g. Green Fingers, eSport Pro and Inter Culture Class. 10+ students can also choose international IG English as well as more international optional subjects (IGCSE). 10IG is primarily for students who wish to proceed to an upper secondary school, either an international or a danish school. All subjects in 10IG are taught in English and follow the Cambridge IGCSE curriculum.
The Danish lessons are levelled to the prerequisites of each student. We offer Danish as a second language and a special programme for danish expats. The school year will end with the danish 10th grade exam in the subjects Danish, English and maths. You can also choose to finish the remaining subjects with the danish 10th grade exam. 10IG students will have both danish and international IGCSE exams. 10+ and 10IG students must take part in a transition programme and make an obligatory assignment about a self-chosen topic (OSO-opgave).
We make certain reservations about the creation of subjects and optional subjects, in case we do not get enough sign-ups.