Category
Profile subject P3
Do you want to try your hand at nature and yourself?
Adventure is for those who love to be active in nature.
We will deal with a wide range of different adventure disciplines both in the classroom at home and on the adventure trip. So we definitely won't get bored.
It will be fast-paced and you will get your adrenaline pumping, push some boundaries and break a sweat.
The adventure trip goes to the Gorge du Verdon in France. We will come down to spring in the French Alps, where we will explore the beautiful nature of the mountains with local guides.
There will be. Mountain biking on singletrack in the mountains, whitewater rafting on the Verdon River, climbing on local cliffs and on the Via Feretta will certainly challenge most.
In addition, we are very open to your ideas and suggestions, as there are many possibilities for fun activities in the mountains.
In addition to indoor and outdoor climbing and mountain biking, the courses at home will also include kayaking, adventure racing, team building, canoeing and much more. After completing Adventure, you should be able to look back on a lot of great experiences in nature, overcoming personal limits, gaining new skills in a wide range of adventure disciplines, and a varied and exciting course.
Accommodation for 6 nights in camsite with tents. (We bring our own tents) Pax price 60€
Terms
Terms: All students are ensured up to 500.000,- DKK. in relation to dangerous sports, by damages that are not covered
of the school's business insurance. See also the school's safety instructions for kayak/water activity. It is expected that good equipment will be needed: backpack, boots, shell jacket, sleeping bag, etc. You are very welcome to bring your own mountain bike.
Self-payment: Price per person for camping and activities: App. 2.000,- DKK.
Provided we bring our own tents and mountain bikes to match the number of students.
Teachers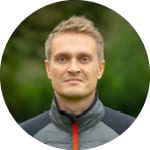 Rune Ditlev Henriksen
IGCSE English, Mathematics and Adventure
Back