Subject objective for Danish
In Danish, pupils will develop their experience and understanding of literature and other aesthetic texts, academic texts, language and communication as sources for the development of personal and cultural identity. The subject should promote pupils' capacity for empathy and their aesthetic, ethical and historical understanding.
Paragraph 2. In Danish, pupils should strengthen their command of the language and promote their desire to use the language personally and in a variety of ways in interaction with others. Pupils should develop an open and analytical attitude to the forms of expression of contemporary and other periods and cultures. In Danish, pupils should develop their joy of expression and reading and qualify their empathy and insight into literature and other aesthetic texts, academic texts, language and communication.
Paragraph 3. In Danish, pupils shall have access to the Scandinavian languages and the Nordic cultural community.
Skills and knowledge objectives
For an exhaustive description of the subject's skills and knowledge objectives, see the Ministry of Education's website: https://emu.dk/grundskole/dansk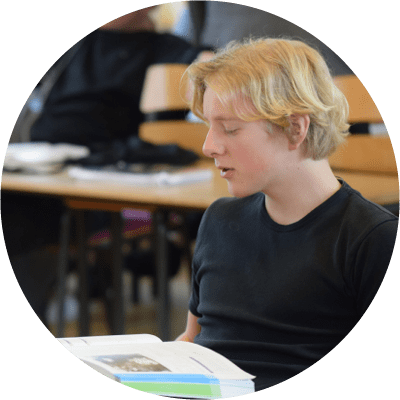 First period profile subjects selected before the start of school. Teams will gather at New Student Day on 24 May for an initial induction. During the first period, a number of skills in the profile subject are practised and used in earnest on the profile subject trip in week 41. The aim of the first period is also to qualify the pupil to enter the selection process for the 2nd and later 3rd period. For this reason, teachers have organised programmes which introduce the pupil to what a profile is, how it is developed and how the pupil can help to shape it and new ones afterwards.
Second period profile subjects elected at the end of September. Students and teachers have the opportunity to shape new profile subjects. The theme is world citizenship and globalisation. Through a focus on both culture and activity, we meet young people around the world and learn about both their ways of life and our own. We call it a cultural profile course and during the course an expedition is prepared and takes place in January.
Third period chosen in December. Students and teachers can again shape new subjects, and students are typically very active. One of the aims is to use the experience of the 1st and 2nd profile subjects to combine interests, activities and cultural encounters. The theme is education, and this happens particularly when pupils meet other cultures on their own terms and use the freedom that the experience of the first profile subjects has given them. The 3rd period trip is typically in early April. Before confirmations and written exams.
Profile/Culture at Ranum
Each profile period ends with an expedition of 1-2 weeks duration.We have travelled to over 30 countries and major cities with the Nature Sports and Imagination teams. We travel about 3-4 weeks in a school year!The profile subjects can be combined by several themes, subjects and activities. Before school starts, you choose a profile subject. Later in the year, you help to propose new profile subjects and choose your new profile subject.
Experience the community and efterskolel life at Ranum
Contact us for more information